Where Are COVID-19 And Riots Taking Us?
Monthly Market and Economic Update –  12th June 2020
"If you have one economist on your team,
it's likely that you have one more than you'll need." 
Warren Buffett
THE MARKETS
Markets look beyond and through…
The red chart on the left shows the US share market (the Dow Jones) over the last six months.  The green chart on the right shows the US share market (the Dow Jones) over the last year.
Key Points
Markets are volatile – why?
COVID-19 has not gone away yet
The 'ugly data' is about to roll out
What does that mean and where are we heading
Markets recovered strongly since April but have given back some of those gains over the last couple of days. The pull back appears to be a reaction to the realistic message about the state of the US economy from the US Fed Chairman Jerome Powell, and possibly the overly optimistic rise in market prices, particularly over the last couple of weeks.
Those previous gains appeared to be based on recent unemployment numbers out of the US and the ongoing hope of a serum to manage the symptoms of COVID-19 or a vaccine to cure it.
More specifically, the US economy added 2.5 million jobs in May, a strong rebound from April's record 20.7 million drop, which helped to push the unemployment rate down to 13.3%. 
This is interesting when you consider that a number of analysts have predicted unemployment in America will reach almost 20%.  Predictions of course, are nothing more than predictions… Still, whilst the markets are looking through the current race riots and job losses beyond 2020 into 2021, the economic impact is still developing in a negative way. 
There is always winners and losers in these types of events and while some businesses continue on without much impact from the Coronavirus, others are in various states of contraction and indeed some have actually closed. 
This will result in economic contraction. 
Perhaps the point here is that even though markets and the economy are linked, particularly in the long run, in the short term there is usually a dislocation where the two are not linked and right now is a good example.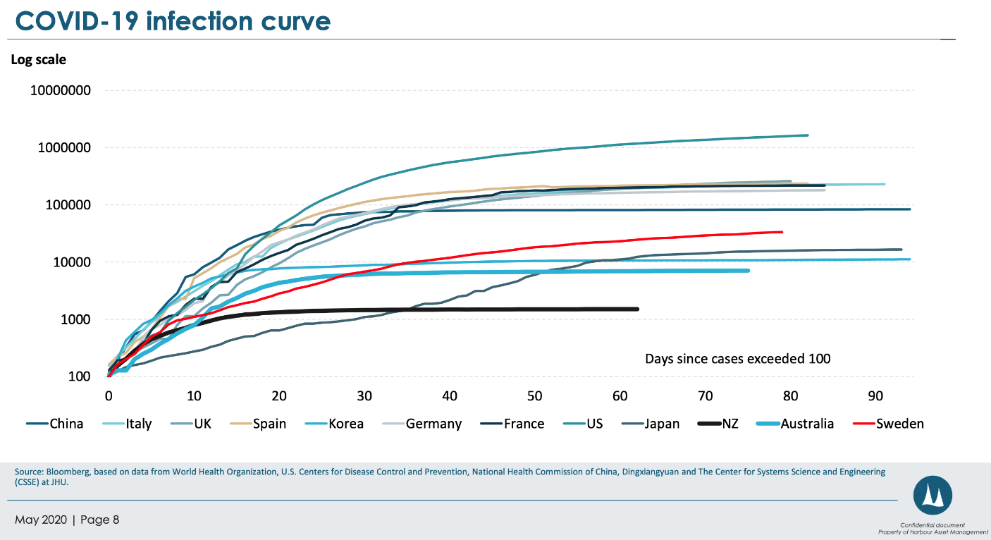 The above graph shows the increase in the infection rate for those countries outlined above.
So, markets generally are tied to the unemployment number currently, hopes for a serum to manage the symptoms or a vaccine to provide a cure along with the infection rate of COVID-19. 
The infection rate is important because, should news of the much talked about second wave of infections emerge, this could potentially be much more challenging than what we have gone through already.  That is because the resilience of businesses, financial institutions and individuals has already taken a hit, with the first wave and what we have had to deal with so far.  Central banks have been active like never before (apart from the global financial crisis over 2008/11) and therefore another round of infections would require additional central bank action on top of what has already been an eye watering amount of stimulus. 
Although I am certainly no expert when it comes to viruses, at WISEplanning we have maintained the outbreak of a global virus more serious than the Coronavirus as a threat to market and global economic stability.  It is in the category of unlikely but potentially seriously damaging should it occur – the so called asymmetrical risk.  We were not predicting the Coronavirus.  We were taking into account the possibility of a more serious and less controllable virus and the impact it may have on markets. 
Although it is always difficult predicting the future, my opinion is that a second round of infections is probable, but to a limited degree only.  That is based on the Coronavirus maintaining its relative stability and not reinventing itself by mutating in a way that becomes difficult for humans to control. 
It fits in the category of possible but not probable.  Indeed I would categorise it as unlikely.  The good news is that there is already significant resources being ploughed into the development of a serum and a vaccine, so we are on our way toward greater control of the virus. 
Also, the various measures undertaken by governments, whilst a mixed bag are also helping to manage the spread of the virus too. 
These are things that the market takes into account but bear in mind that the market has no strategy or plan and can just as easily do a U-turn in the blink of an eye. 
For us therefore, from a market perspective it remains useful to have some cash in our portfolios although cash levels will likely be diminishing, particularly if we have taken action over the last couple of months, to take advantage of lower prices.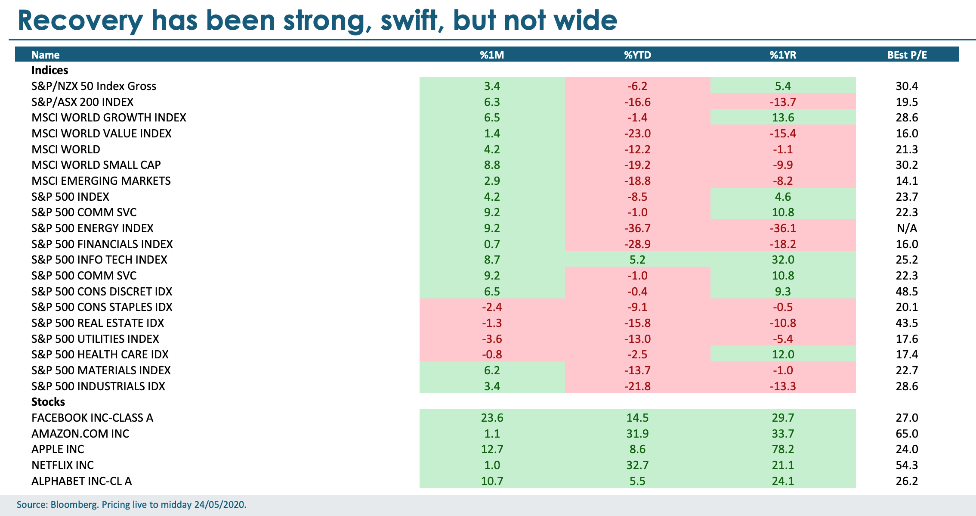 The above chart shows the recovery in share market indexes and some technology stocks as at 24 May 2020.  The left column showing percentage return for one month (1M) shows the increase over the previous month (up to the 24 May 2020).  The next column shows the percentage increase or decrease year to date.  The next column shows the percentage increase or decrease over the last twelve months and then the right hand column shows the estimated price earnings ratio of the index or the stock.
Although the above chart really tells us nothing about how to invest in the future, it is interesting to see the movement in trading prices over the last month, year to date and the last twelve months.  I would not rely on the price earnings ratio to value a business, however, as a rough 'ready reckoner', as it were, the price to earnings ratio gives us some clues around general levels of trading prices when compared to their underlying earnings. 
Remember that the long term average for the US market sits at around 16 and so you can see that a number of those indexes and certainly all of those stocks outlined toward the bottom of the chart above are looking expensive again. 
THE ECONOMY
The now risk and the real risk
The above chart from John Hopkins university offers a dashboard outlining total number of cases of COVID-19 confirmed as well as the number of deaths and the number recovered.
COVID-19 continues to spread.  The economic impact has been significant, which is interesting when we consider how much more serious a virus could be.
It is fascinating the different governments around the world and their various responses.  New Zealand has done well by comparison. 
The now risk
What comes next is the role out of negative economic data.  The bottom line here is not so much the data itself, but how the market responds/reacts.  Further, the matter of how various governments respond to the issue.  As we have already seen, that response has been a mixed bag, although when we look more closely at the facts (beyond Channel One, Channel Three, CNN etc) even though this Coronavirus is far from over, the effects of it are being managed to some degree, better in some countries than others. 
I highlight the United States of America often because data is readily available, and their economy has as much impact on the world as any other (not withstanding that China and Europe are worthy contenders too).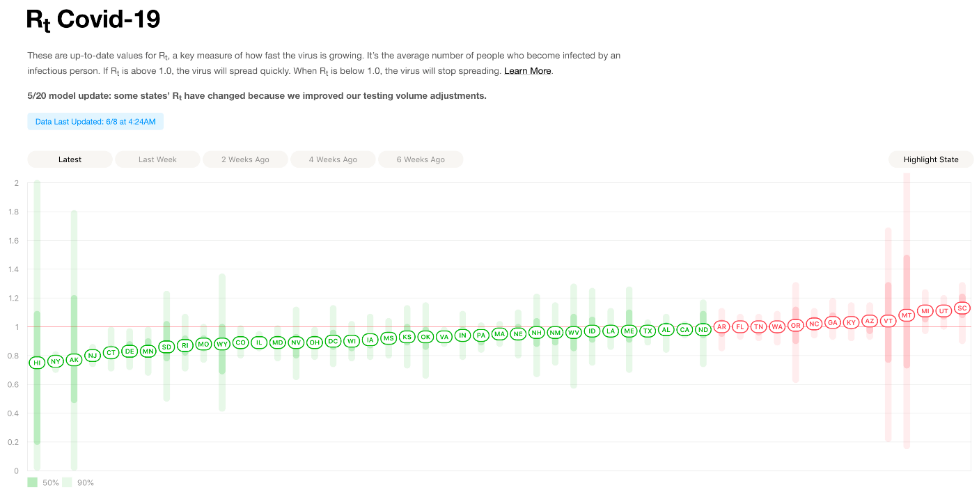 The above chart compares the various states within America with regard to their Rt COVID-19 score.
The above chart is interesting in a couple of ways.  Sure, I listen to the news like anyone else to be aware and know what is going on.  Like a number of my clients I suffer from a degree of frustration as to the simple mindedness in some of the reporting, notwithstanding the fact that some of it is actually quite well done. 
Reports that include thorough analysis and research takes time and costs money but is valuable for us as consumers of it.  The other stuff (there is heaps of it) is frustrating in the fact that we have to wade our way through it, to stumble across worthy journalism. 
Anyway, the Rt score looks at the reinfection rate from one person.  Simply, an Rt score greater than one suggests the virus will continue to spread and will be more difficult to contain, signalling a potential pandemic.  An Rt  of less than one may signal an infection rate that is slowing down or under control and the possibility of eradication. 
Last time I looked New Zealand's Rt was around 0.75. 
If we look at the chart above, we can see that the majority of American states have a score of less than 1.  What is interesting is New York state has an Rt of 0.76, which is not bad when you consider how this is reported on by the popular press – number of deaths. 
The highest score on the above chart is South Carolina at 1.13, followed by Utah at 1.11, then followed by Michigan at 1.11, then Montana at 1.08. 
At the other end of the scale you have Hawaii at 0.75, New York at 0.76, Alaska at 0.77, New Jersey at 0.80, Connecticut at 0.82 and Delaware at 0.83. 
Although any death from COVID-19 is a tragedy, we know that the total number of deaths globally when compared to this time last year is not much different when we compare 2019 with 2020.  Whilst there are deaths related to COVID-19, a number of those deaths were elderly people whose life spans were limited, due to existing health conditions.   Also, with the virtual shutting down of the global economy, with less activity there has been less accidents and other activity that appears to have offset the increase in deaths from COVID-19.  The net result is not much difference.
However, the Coronavirus has made a significant difference to the global economy and whilst at this stage it is too early to see the impact of it, unemployment is metric that we can get some idea of.  This is useful because it gives us an indication around economic growth (contraction).  Remember any reported statistics like I am showing you are history.  Unless stated otherwise, they are not projections.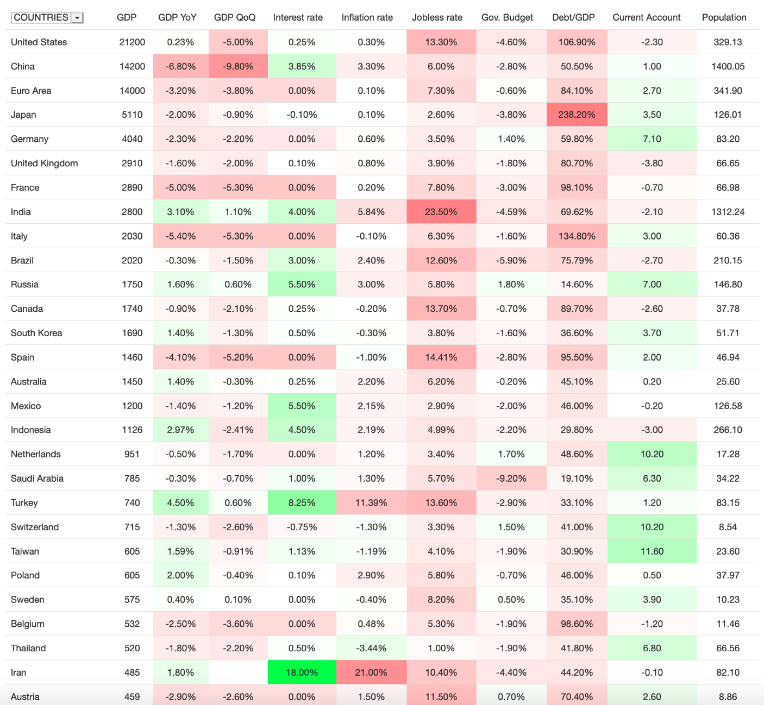 The above chart provides a dashboard of various economic data including economic growth (GDP) interest rates, inflation, unemployment (the jobless rate)…
As a point of interest you will notice that America still has pole position with regards to the size of economic productivity each year at a bit over 21 trillion dollars.  Second as you can see is China at around 14 trillion dollars.  Similar to the Euro area.  Take a moment and study the chart above to get an idea of where various economies sit with regards to their economic growth, interest rates, inflation, and unemployment.
Just recently unemployment numbers for America were released and although there has been some debate about the accuracy of those numbers, either way, whether unemployment comes out a bit over 16% or 13%, it is a significant number but better than most were predicting.
There have been predictions of up to 25% unemployment in America.  Whilst there is quite a way to go yet, with this virus, the American economy, rightly or wrongly, is slowly opening up once again, casting doubt on those huge unemployment projections.
The point about unemployment of course is that it does indicate an increasing struggle for the American economy and potentially other economies around the world to a lesser degree (depending on their trading links with the US).  Anyway unemployment is a number to watch (they refer to it as the jobless number in America).
The Real Risk
The real and unimaginable risk is around American/Chinese relationships turning seriously bad to the point where the current Cold War becomes hot. 
I cannot imagine what that would look like and I only mention it in passing because it sits on our risk register currently as 'low probability/high impact'. 
Clearly Donald Trump's approach to trade has rattled the Chinese and, apart from the usual day to day communications between the two countries, appears to have closed down diplomatic channels and as a result, increased the level of mistrust between the two economies. 
Donald Trump is only part of the issue because there is a real train of thought that the Chinese communists, who currently boast the longest lasting communist party in the world, might be taking the view that they do not want outside interference.  Although it is somewhat anecdotal, some believe that the downfall of the Russian empire was due in part to Western infiltration and interference which the Chinese fear and prepared to take a strong line to avoid. 
The Cold War with China is well underway. 
New Zealand
 Welcome to Level One!
 The Coronavirus and the impact of it has been more difficult for some than others.  Anyway – we did it! 
As you know Level One means border closed until such time as we extend our bubble with the likes of Australia or Singapore or any other country that is in a similar position to us. 
As obvious as it sounds, border control measures will be critical for the New Zealand economy moving forward. 
One thing we know about the Coronavirus is how contagious it is.  Once that Rt score breaks through 1.0, that is a problem.  Hopefully, that is behind us.
Because tourism has been so important for our income as a country, with borders closed this is obviously a serious head wind for New Zealand's economy.  Until borders reopen it will be very difficult for New Zealand Inc. to return to previous levels of activity.  Of course though, this does not mean that kiwi's blind faith in property has been dented …
The above chart shows the movement in property prices as at the end of April 2020.
The above chart shows a positive picture with record prices in some areas, at a time when NZ was in lock down (?!). 
Unsurprisingly the number of properties sold over April dropped to an all time record low with just 1300 properties sold over the month of April. 
The above chart shows the decline in property sales since late February 2020.
Perhaps the real point about residential property is that it is a worthy investment for some providing it is approached correctly.  However, as we all know, owning residential property does not under pin more jobs and growth in the New Zealand economy. 
Property has its place, particularly when it comes to construction.  Really, we need business activity, business growth and the creation of more jobs to get things back on track – not ever increasing property prices that are already stretched.
So, it is a mixed bag for New Zealand, looking positive in some areas, but obviously there is some serious work ahead for us as an economy to make up for the significant gap in tourism.  One would expect this would also flow through to property prices ( flat lining or declining) in New Zealand at some point, with property prices tending to be a lagging indicator.
The question coming up for us all is whether it will be Jacinda Ardern and her team or Todd Mueller and his team?  Which party do you think is the best placed to take us down the road to prosperity? 
We are only a matter of months away from the New Zealand election.  My vote goes to Jacinda Ardern when she joins the National Party as leader 😊. 
TO SUMMARISE
The above chart shows the movement in the cross rate between the USD and the NZD. 
The unthinkable asymmetrical risk is China and America progressing from the current Cold War to the so-called Hot War.  We appear to be a long way from that scenario, my point being if you are going to worry about something, worry about something worthy.
New Zealanders are now at Level One and so too is the New Zealand economy – yippee! 
We have got work to do that is for sure.  Still, we are part the way there already with government stimulus packages implemented and likely more to come, a bit of feel good factor, prior to the upcoming elections (do not worry it will not last long!). 
Interest rates remain low which is not helpful for those who insist in investing in the bank, but useful for those who love rental property and investing in other growth assets.
Still, my expectation would be for property prices to slow down (not rise as fast) and we could potentially in some areas even see a decline (I know, some property investors can struggle with that concept).  The reality is that New Zealand property prices in some areas are among the most expensive in the world on the back of a highly unusual set of circumstances (e.g. interest rates at record lows, easy money). 
Economies around the world have progressed from manufacturing economies to being based more on consumption with around 65% of most developed economies (China is catching up) based on internal consumption.  The lack of tourists in New Zealand is a head wind, however, us kiwis are inventive, practical, and hardworking generally. 
What really matters is what goes on beyond the shores of New Zealand because we trade with the other countries and at least in the short term it would appear that head winds are the order of the day for our exporters. 
The above chart shows recent history for economic growth, unemployment, and inflation along with projections up to the third quarter 2021.
So moving ahead, I suspect we will see a delayed impact on property prices in New Zealand, interest rates remaining low, heading toward zero, although whether they will actually get to zero or not for depositors is another question, but it is possible. 
The global economy is largely operational, but at a reduced level, but in no danger of collapse as central banks remain active. 
Levels of debt around the world continue to increase but remain manageable even if we feel uncomfortable about it.  The alternative is immeasurably more uncomfortable.  I am not saying I agree with it, simply outlining the realities of the situation. 
China and the US grow wider apart on their views which is likely to continue as the Cold War gains momentum.  Still, whilst some academics believe this is the end of globalisation as we know it, I remain to be convinced about it.  What do you think?