China and The US, How Bad?
Monthly Market and Economic Update –  17th August 2020
"If you have one economist on your team,
it's likely that you have one more than you'll need." 
Warren Buffett
MARKETS
Tech Stocks Boom – Will They Bust?
The red chart on the left shows the US share market (the Dow Jones) over the last six months.  The green chart on the right shows the US share market (the Dow Jones) over the last year.
Key Points: 
Markets close to all time highs (again)

COVID-19 continues to spread but is that slowing?

What is the impact on the global economy so far

Will it deteriorate

What is going on between the US and China

If Joe Biden becomes the US president, will markets sharply decline?

The second wave is here in NZ

What is happening with currency cross rates?
Markets flatten off after a strong recovery.  Tech stocks just will not lie down.  If you look across the market, tech stocks are responsible for much of the lift across market indexes.  The S&P 500 has recently been referred to as the S&P 5 – the five most popular stocks, all tech stocks. They just will not lie down! 
So, what is the story?  Will these tech stocks crash?!  Well, of course, markets determine prices and at any moment, the markets can decide they are unhappy in a big way.  There has been a significant amount of money flowing into fast rising tech stocks, so if there were an event across the markets or news that created uncertainty, then it would not be unexpected for quite a bit of that money to shift into reverse and exit in a big hurry.  It would require a reasonably sudden and unexpected event or piece of news to create that type of reaction.  It is not obvious right now but still, it is possible.
As you know though, that does not necessarily mean to say that if we have invested in a good business, that the underlying business model has changed at all.  In general terms, well-established tech stocks (eg Facebook, Alphabet and Adobe) have a solid business model, strong economics and of course, good financials. 
It is a different matter though to invest (speculate) on young tech stocks with a new idea.  Sure, Alphabet and Amazon were once small tech stocks with a new idea.  The challenge we face as investors though is that for every Alphabet or Amazon, there are literally hundreds of failures. 
Anyway, I would be quite happy for markets to sharply correct from here because that would provide us with a bit of space and lower prices to obtain more exposure to some quality businesses.  Although I do not think it pays to overthink it too much, the reality is that fiscal and monetary stimulus has supported asset prices, whether it be residential property or share market. 
This is not ideal; however, the reality is that central banks around the world have little choice but to continue on their current path.  Their mission is to stabilise markets, help reduce unemployment and support economic activity. 
US Elections are Looming
The above chart shows the rise in a theoretical $10,000 invested back in 1933 and the impact of US elections on markets from then to now.
Historically, markets tend to just power through presidential elections regardless of whether a democrat or a republican won the election and became president.  Should Joe Biden become elected as president, this means they control the senate and maintain control of the house, which is known as the blue wave.  A Joe Biden win would produce the greatest degree of political change.  It is likely that there would be a reversal of some of Trump's policies, which would include taxes, regulation and immigration. 
The above chart compares global tax rates with US tax rates, with the drop in the US tax rate being clearly shown by the decline towards the right-hand side of this chart (the blue line). 
So, in this scenario, we could see a partial or full rollback of the Tax Cuts and Jobs Act of 2017, which included significant declines in the tax rate in the US.  Corporate tax rates declined from 35% down to 21%, which of course provided a significant boost to corporate earnings in America.  That also helped to propel trading prices strongly in an upward direction (thank you Donald Trump!). 
A partial or full reversal would put pressure on share prices at least upon the announcement and around the implementation of those tax increases.  What we do not know is whether there would be an outright large increase, which would likely cause sharp market volatility (I am fine with that, by the way) or whether it would be a more measured approach seeing tax rates gradually increase over a period of time.  Either way, it is a headwind for trading prices (and that's fine by me!). 
A Joe Biden win might also see much greater emphasis on regulation across the board, which could have implications not only on the tech sector but also telecommunications and energy. 
Some suggest that Joe Biden would be quick to target large tech stocks, some of whom have recently appeared in front of senate for a Q&A session.  Nothing much seems to have come of that so far, although I suspect it is not over. 
Whether or not US politicians know or even care, the reality is that if they target and hurt large tech companies, then they hurt jobs in America and economic productivity. 
This is not to say a rationalisation of large tech companies would not happen.  Back in the 1990s, we saw Microsoft become the target of anti-trust regulation.  That resulted in Microsoft being broken up and from an investment point of view, pretty much a decade of underperformance.  The business itself though remains a solid business and more recently, with its Cloud based initiatives, is looking promising in terms of future growth. 
Another scenario is where Trump wins the re-election and republicans keep the senate.  In this scenario, the house may remain in democratic hands and therefore the current environment of political confrontation would likely continue. 
The bottom line is that in the US, the economy is still in stabilisation mode with regards to COVID-19 and the impact on the economy.  Hopefully, they will be able to move into recovery mode early in 2021. 
The Market's Trick
The trick of the market is to keep you focused and engaged with current events, particularly those on the negative side of things. 
It is worth bearing in mind that items and events that make the news do so because they are news.  In other words, they are generally outliers that attract our attention for that reason. 
As investors, we are better off maintaining a focus on our big picture, long-term goals, our Investment Strategy that drives the success of our goals and maintaining our discipline around our investing methodology. 
To be clear, it is useful not getting distracted by the significant mindless noise that the market generates every hour of every day, week in, decade out.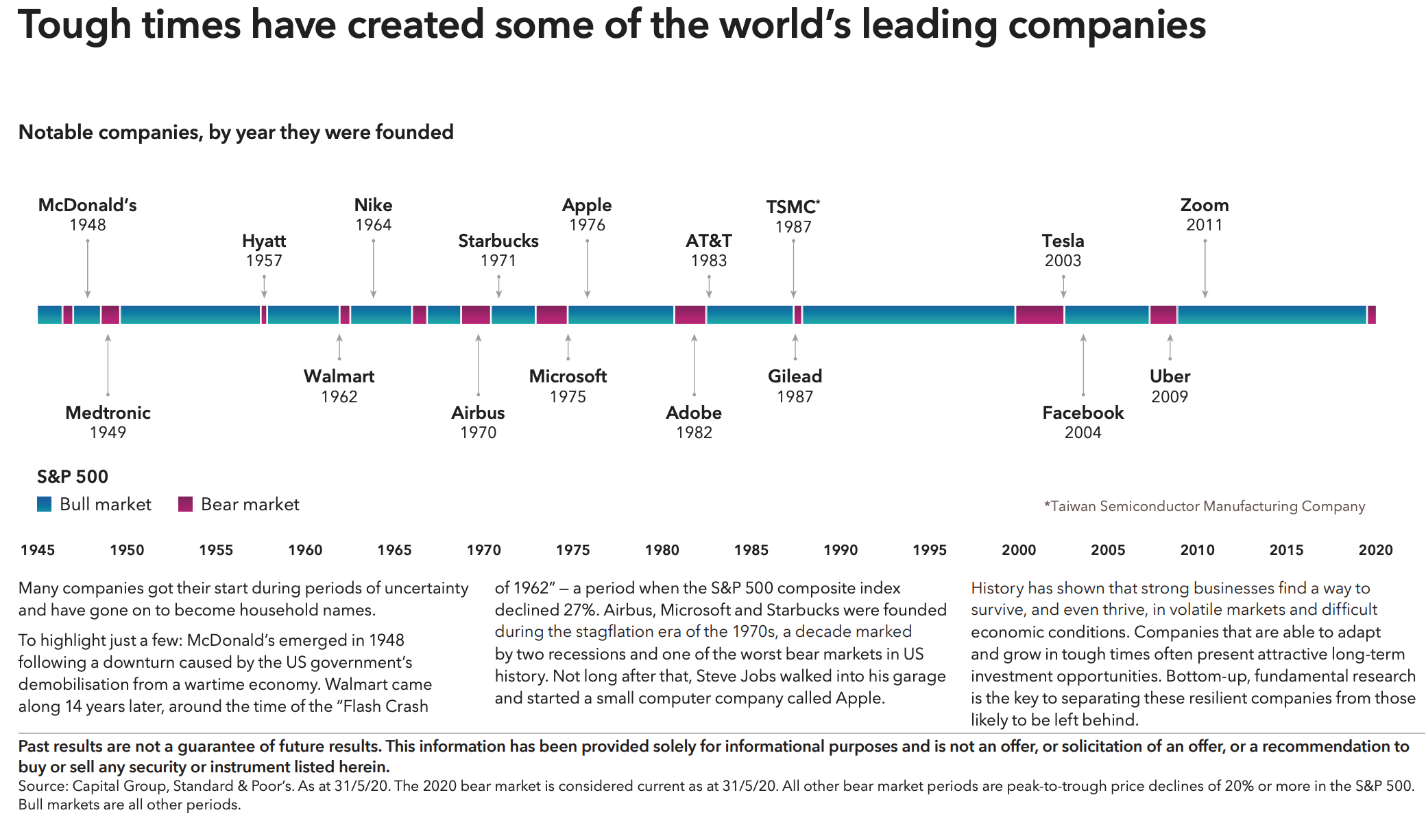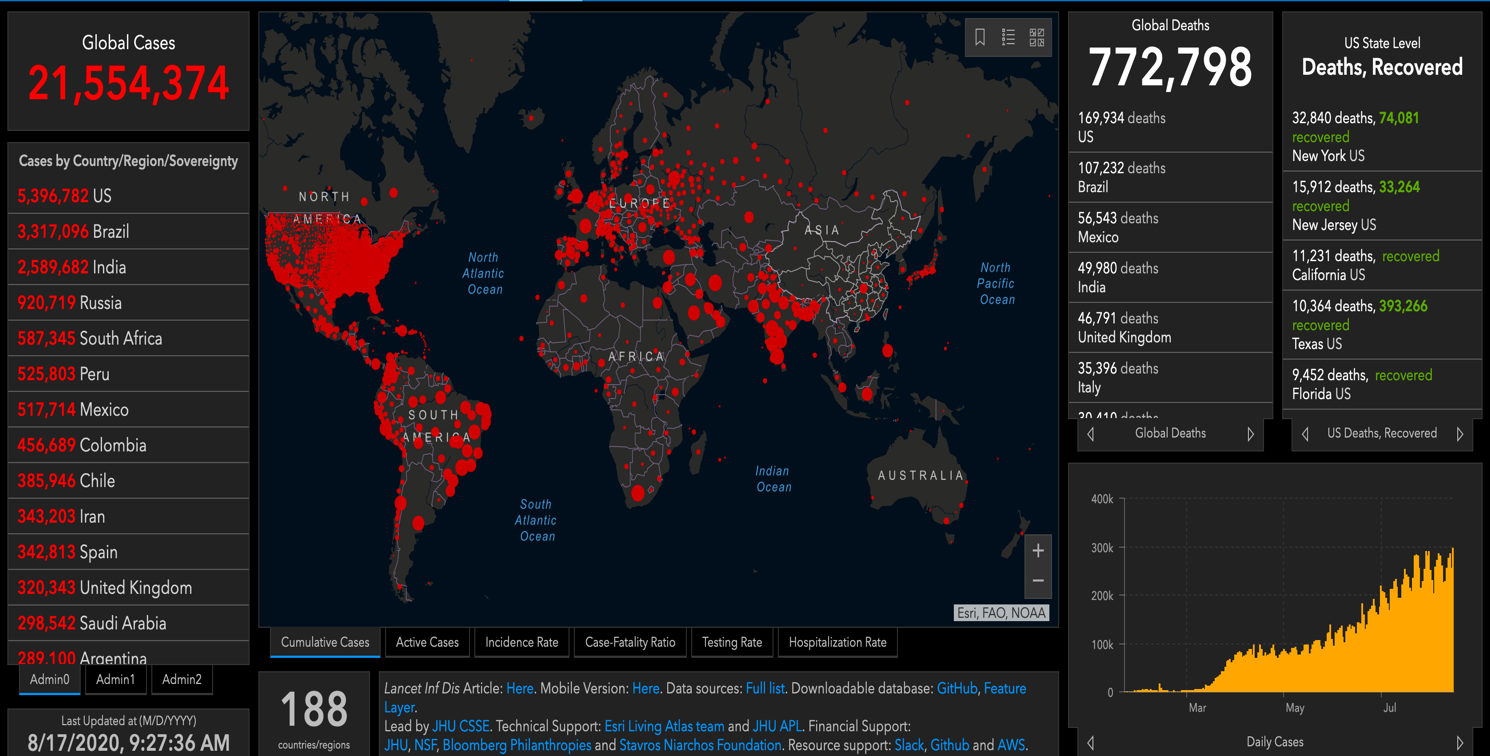 The above chart from John Hopkins University offers a dashboard outlining total number of cases of COVID-19 confirmed as well as the number of deaths and the number recovered.
The United States of America
The above chart shows the impact of COVID-19 on second quarter economic activity in America.
Economic activity in America, unsurprisingly, contracted sharply in the second quarter of 2020. The short of it is that whilst some sectors of the economy are actually benefiting from COVID-19, across the board, economic activity has contracted sharply, in some areas more than others.  Obviously, airline travel and hospitality are two standout victims of COVID-19. 
Monetary and fiscal stimulus has supported the economy generally, along with other initiatives such as payments to employees, so that their jobs continue.  The airline industry, for example, is a major beneficiary of salary support; however, as you read this, serious debate around the continuation of the support is underway.  I think they have little choice.
The above chart shows which states have potentially contained the virus (those marked green) and those states where the Coronavirus continues to spread (the red states).
The spread of the Coronavirus across the United States of America appears to be slowing down.  Of course, that does not mean that it is all good, but rather that things are not good and the slowdown represents a slightly less bad situation in terms of Coronavirus spread. 
The reality is that the impact of COVID-19 will be somewhat protracted. My best guess is an impact on economic activity along with unemployment and other economic indicators feeling the impact of the spread, at least over the next two to four quarters. 
From a market perspective and an economic perspective, once a vaccine is announced, the markets will pick up on it and at that point, I would expect trading prices to bounce upwards. 
That said, the underlying economy being a lagging indicator may not show much of an improvement for at least one to two quarters.  Whatever way we look at it, there is no quick fix. 
The above chart shows unemployment since 1929.
The unemployment rate in America fell to 10.2% according to the Bureau of Labour Statistics but remains above the high of 10% that was recorded in October 2009.  Although there were more jobs added than expected in July, it appears that the number of people working part-time rose by 820,000 to 24 million in total over the month of July.  The US Government defines part-time work as anything under 35 hours per week. 
The highest unemployment rate for any group appears to be for black workers at 14.6%.  This appears to fit in with previous downturns, which suggest that black workers are the most likely to be displaced. 
The chart on the left shows unemployment by sector.  The chart on the right measures the number of hours worked at small businesses across America.
The chart on the left measures restaurant reservations across America.  The chart on the right shows box office sales.
China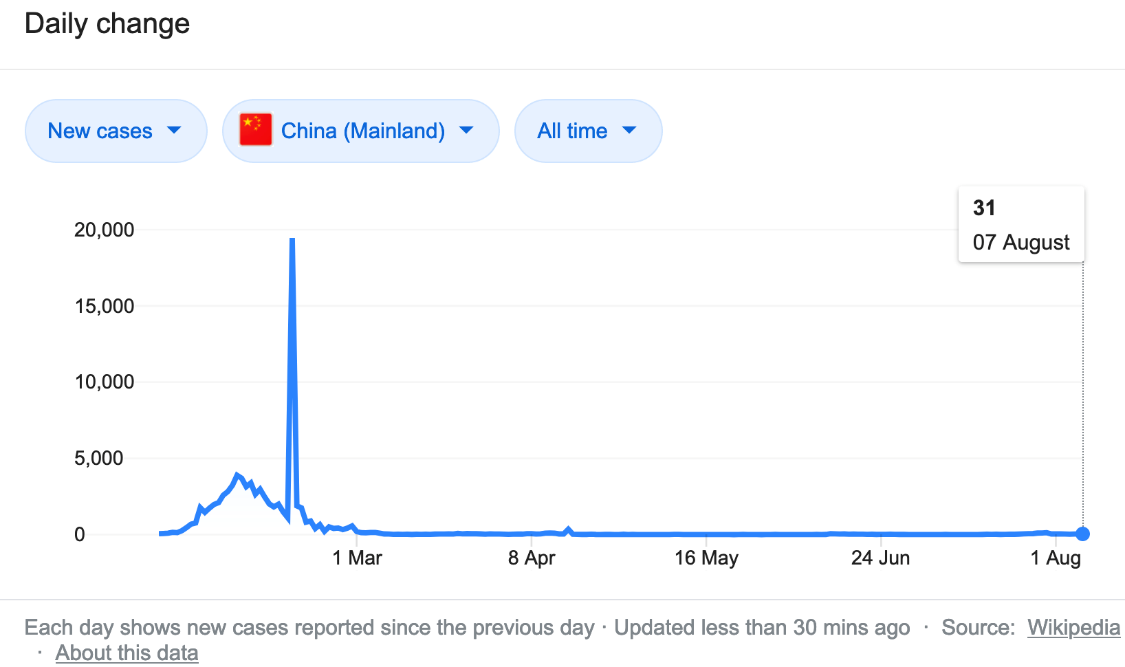 The above chart measures the change in COVID-19 infections.  Note the window to the right of the chart, dated 7 August 2020, shows 31 cases. 
China appears to have contained the spread of COVID-19; however, there was a report recently about one death as a result of bubonic plague.  Authorities in the Chinese region of Inner Mongolia sealed off a village after a resident there died from bubonic plague.  This is thought to be an old disease but actually exists in many countries still to this day.  At this stage, others tested in the village have so far tested negative for the disease.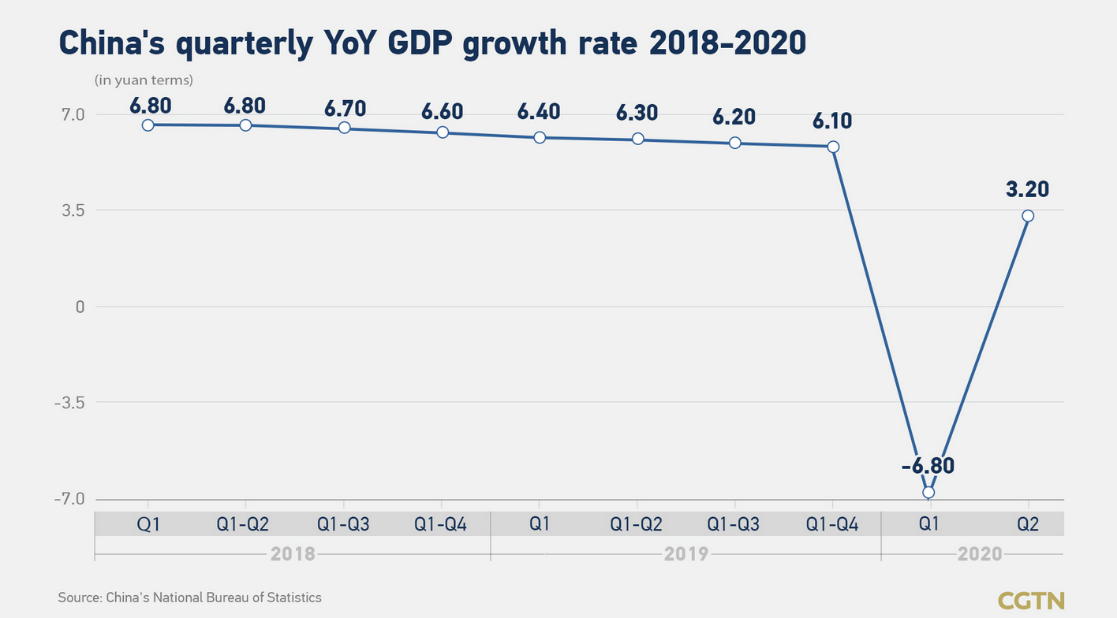 The above chart tracks annual growth in the Chinese economy, as measured by GDP.
China's economy grew by 3.2% in April to June from year earlier, reversing a 6.8% decline in the first quarter.  That 6.8% decline in the first quarter was the first contraction since around 1992 when official records began, according to the Chinese National Bureau of Statistics. 
The net result is that over the first six months of 2020, China's economy shrank by 1.6% year on year.  The Chinese Government introduced a number of measures, which included tax relief, more fiscal spending and also cuts in lending rates for borrowers.  Also, not unlike the New Zealand Reserve Bank, the Chinese Government reduced the main trading banks' reserve requirements, allowing them to lend more money to help stimulate the economy.
Industrial Producer Price Index (PPI) – China
The above chart tracks the level of producer prices in the industrial sector in China from June 2019 through June 2020.
Industrial production and prices obviously took a hit as a result of COVID-19 but as the chart above shows, there has been a rebound over the last month or two.  The Chinese manufacturing machine remains intact. 
The Cold War Continues
Although some would argue that characterising the relationship between China and the US as a cold war is a bit of a stretch, the reality is that the trade negotiations were possibly the starting point and now the US and China are in a tech skirmish. 
A while back, this issue rose to prominence with concerns around Huawei's technology and concerns around national security, which has recently progressed with the threat to ban TikTok, a Chinese technology platform used mainly by teenagers around the world to watch short videos. 
Again, the claim by America is that there are security concerns, although those have yet to be proven (which does not mean they are not real).  Microsoft is looking to buy TikTok, which is work in progress at the moment. 
It is worth remembering that China denies access for Chinese citizens to the likes of Facebook, Google, Twitter and a number of other US firms. 
Although we await to see what response China comes back with, you may recall that both China and America have each closed one consulate in a tit for tat spat recently. 
America has banned Chinese graduate students with ties to the military and applied sanctions on officials over human rights abuses. 
There is also the proposal to ban all 92 million Chinese Communist Party members and their families from entering the United States, which is gaining traction. 
There is more to run on this story, as they say on CNN. 
Australia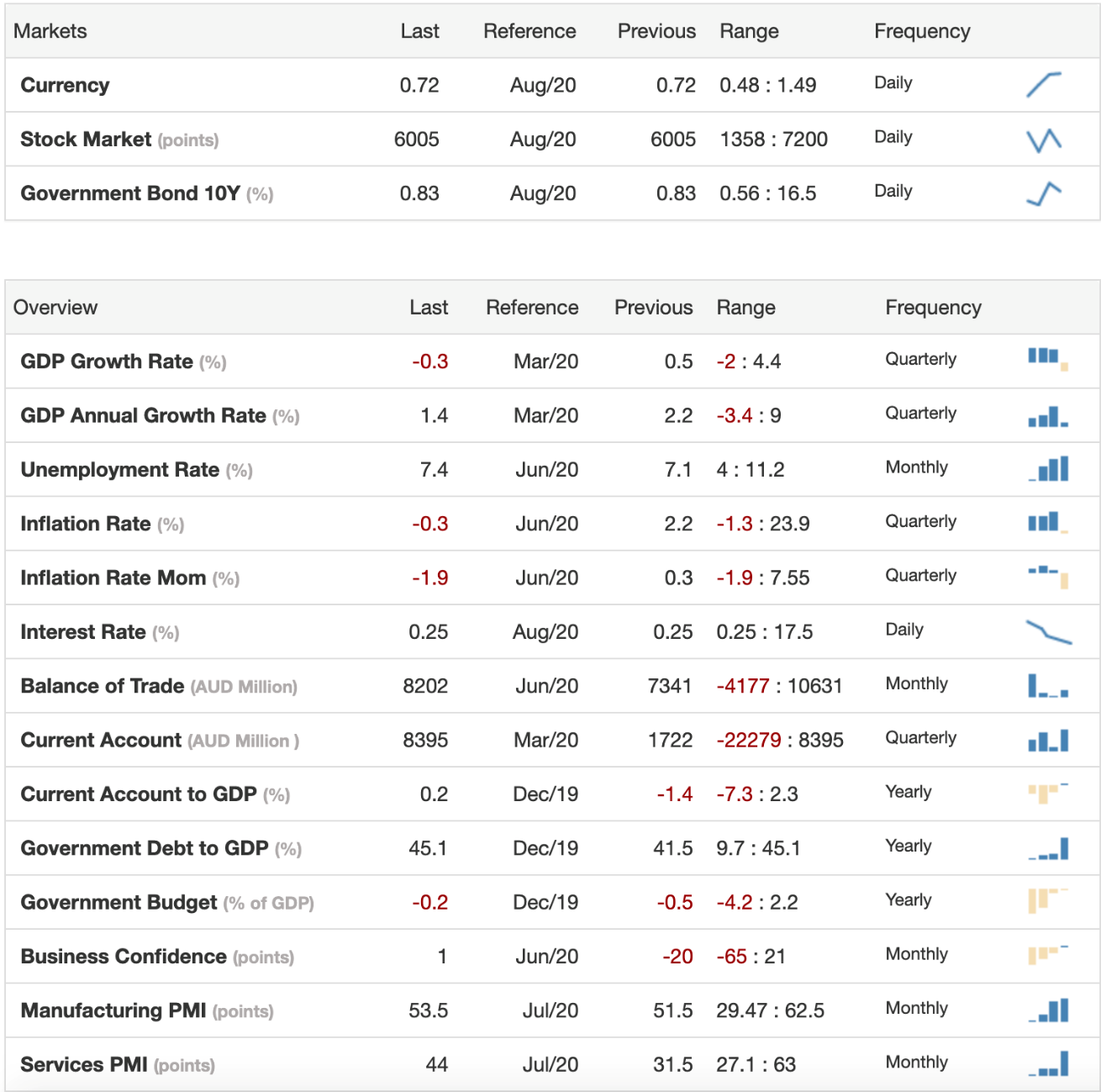 The above diagram shows a variety of economic indicators across the Australian economy.
The top chart tracks the daily change in infections with 7 August 2020 showing 410 new infections that day.  The bottom chart details the locations of confirmed cases, the numbers recovered and the death rate.
The Australian State of Victoria declared a state of disaster.  Under the new rules, residents of the State of Victoria are subject to a night time curfew and other restrictions.  This is ironic when you consider that Australia has been more successful than a number of other countries in tackling the spread of COVID-19; however, the spread in Victoria appears to have got out of hand. 
It is easy to point the finger at lack of management but also, it highlights just how easy it is for this virus to spread. 
As we have seen elsewhere in the world and the US is a good example, lockdowns have all kinds of ramifications which extend to schooling, work, rising debt levels and increasing stress among certain cohorts of the population. 
Arguably, there may be some benefit for some, which includes quality family time, a chance to slow down and reflect on where they are with life and things in general or the opportunity to carry out some tidying up and renovating on the home front. 
Like other economies, the Reserve Bank of Australia has acted to support the economy because we have seen an unemployment increase and economic activity shrink. 
Still, Australia has a reasonably robust economy and is reasonably well-placed to deal with COVID-19. 
As I pointed out last month (and previous times as well), this is important for us as Kiwis, because we trade significantly with Australia.  At this stage, it looks as though the trans-Tasman bubble is further out into the future; however, the day will come when that will be a reality. 
New Zealand
New Zealand Economic Growth Recovery
The above chart shows some projections with regard to New Zealand's economic growth.
The New Zealand economy has taken a serious hit because of our narrow economy, relying on tourism heavily.  At the same time, central bank action and stimulus packages have helped keep the economy ticking over. 
Some of those stimulus initiatives; however, potentially roll off around September this year.  We all know how well things have worked out with regard to the containment of the Coronavirus here in New Zealand; however, the increasingly strong rhetoric from the government and other quarters around the risks of a second wave has become a reality. 
The above chart indicates that some parts of the New Zealand economy are (were?) getting close to where they were prior to the spread of the Coronavirus.
The above chart (to the left) shows that electricity usage has pretty much returned to pre-COVID-19 levels.  When we look at the chart showing the traffic count (to the right), this shows again that some parts of the country are reasonably close to pre-COVID-19 levels; although others such as Wellington, for example, still have a gap between where they were pre-COVID-19 and where things are now. 
Obviously, other parts of the economy, such as fuel and hospitality, are nowhere near back to pre-COVID-19 levels of productivity. 
It is interesting when we reflect on how levels of activity in the economy impact on earnings of New Zealand listed companies.  It took approximately four years for earnings of New Zealand based companies to recover after the global financial crisis (2008), whereas with regard to COVID-19, earnings have not dropped by so much and look likely to recover by around 2022 or thereabouts (assuming the second wave is contained).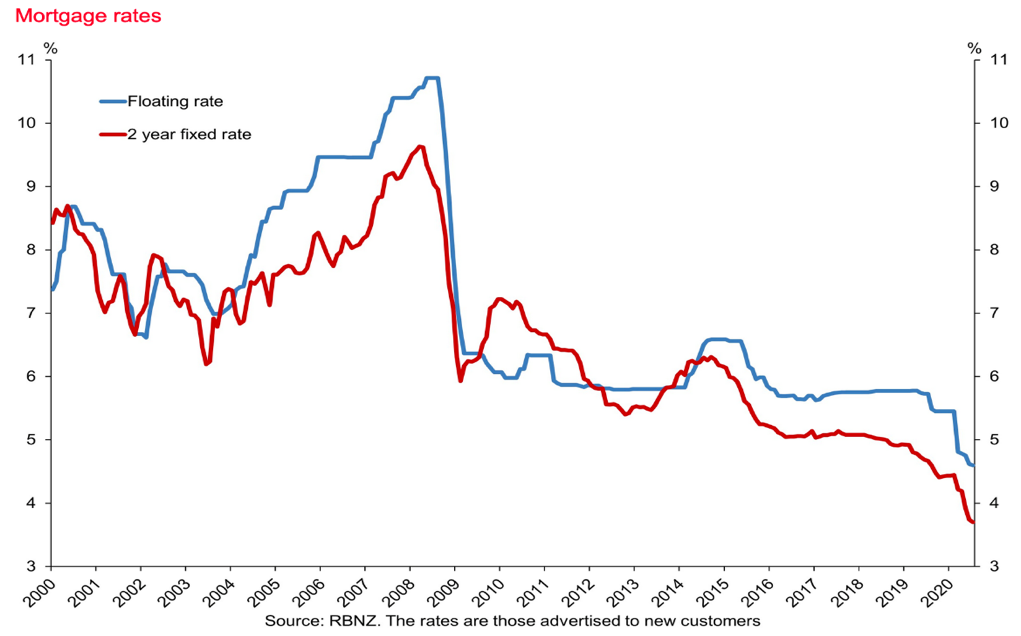 The above graph tracks mortgage interest rates from 2000 to date.
Mortgage interest rates in New Zealand, along with many other countries around the world, continue to track in a downward direction (what else is new eh!!). 
Although there is some debate around whether or not we will get to actual negative interest rates here in New Zealand, the reality appears to be that interest rates will remain lower for longer. 
By itself, low interest rates cannot fix a struggling economy.  As part of a cohesive mix of initiatives, low interest rates do help support economic activity, which in turn helps to support employment, jobs growth and importantly, small business activity across New Zealand. 
I raise this point about small business owners because I know that in this space, many small businesses survive and progress at times despite the business owner (!).  In other words, they achieve success because of the business owner's tenacity, ingenuity and grit. 
Those are indeed worthy characteristics of any business owner; however, businesses in New Zealand should also be succeeding because of their well thought through governance, management structures and strategic initiatives, along with good management based on best practise. 
Some help in this area, it seems to me, would make a real difference to a number of business and their ability to grow.   The flow on affect therefore would be the number of additional employees they could take on, an increase in spending and the tax take, the impact throughout the economy potentially significant. 
Well, maybe that is just too sensible! 
The above three graphs show the exchange rate movement in the US Dollar, the British Pound and the Australian Dollar compared to the New Zealand Dollar. 
To Summarise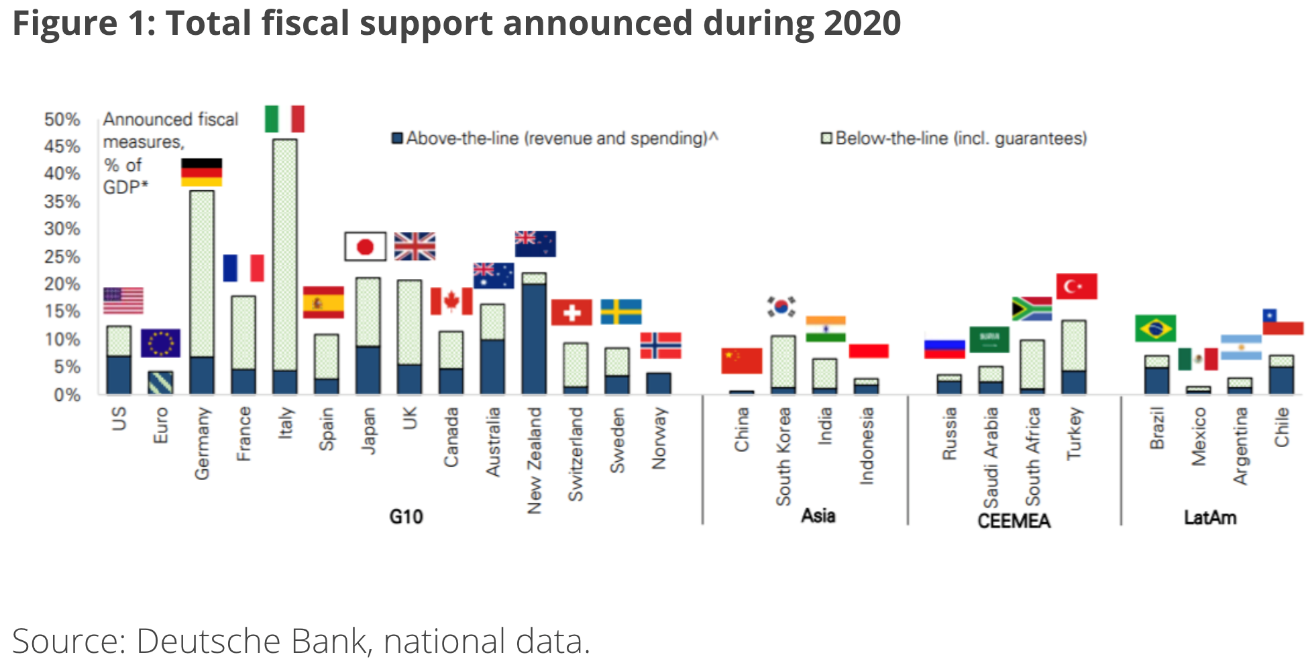 The above chart measures the extent of the fiscal support for a number of countries compared to their annual GDP (how much money their country makes each year).
As the above chart shows, some countries have implemented significant support to their economies in order to keep things ticking over (or should I say avoid a severe economic struggle).  It is worth bearing in mind too that the chart above measures fiscal support and does not include other actions of central banks on the monetary front. 
Large global banks appear to be at the centre of the Coronavirus pandemic and look to be reasonably well positioned to stabilise their respective economies and support growth. 
Weak banking liquidity positions was one of the major problems back in the day during the global financial crisis, whereas ironically, because of what went on then, banks are now in a stronger position. 
Perhaps the most noteworthy item on our agenda this month is the ongoing cold war and tech skirmish that continues to evolve with Donald Trump threatening to close down TikTok in America within a number of days. 
From a market perspective, there are risks for shareholders in the likes of Starbucks and Apple should this tech skirmish escalate significantly.  In my view, we are a long way from that situation currently.  
It is one thing for China to respond by saying that they will ban the likes of Apple from China but on the other hand, they will be thinking about what impact that might have with regards to unemployment and other flow through implications for the Chinese economy if they were to go down that path. 
Ultimately, I would see that as a lose/lose scenario.
Going back to TikTok, the removal of this operation from America has no impact on the economy (apart from annoying a few teenagers!). 
Markets have rebounded quite strongly and are now reasonably close to where they were prior to the emergence of COVID-19.  Yes, that means that prices generally are relatively expensive once again.  Still though, there is isolated opportunity. 
From an economic perspective, there will be, as I have said elsewhere, a slew of negative economic data rolling out over the next two quarters. 
It is interesting when we think about those who promoted the 'doom and gloom economic Armageddon of epic proportions' scenario prior to COVID-19 must be rethinking their position.   We now have had an outbreak of a pandemic and yet still the global economy, even though there is significant adjustments taking place, has nonetheless continued to operate, albeit with some major changes in terms of employment, freedom of movement, economic activity and the likes but nonetheless, we do not have economic Armageddon, even with the pandemic. 
This, in my mind highlights not only some of the progress that has been made in terms of the ability to manage and stabilise the global economy in difficult times, but also the fact that we were never on the cliff of that economic Armageddon at any point over the last 10 to 20 years, even though I agree that the increase in debt, the lack of productivity and the growing liquidity bubble do not serve us well fundamentally in the long run. 
"It is what it is," as someone smarter than I once said and what we need to do as investors, is simply to work within the environment that we have.  Fortunately, we can still invest and make our money work long-term. 
Better still, we can do that with a high degree of confidence because of our value/eco-Investing methodology. 
Looking ahead, I suspect there will be an ongoing raft of negative economic data over the next two to three quarters and then I would expect that there may be some green shoots starting to appear and who knows, there may even be the announcement of some sort of vaccine. 
It may not resolve the Coronavirus totally.  It may nonetheless provide yet another tool for the management of the Coronavirus pandemic. 
In the meantime, markets do what they have always done; focus on what is going on right at the minute and largely overlook longer term fundamentals in favour of what is going on right now. 
You and I, of course, will be keeping our powder dry, focusing on our big picture, long-term goals and maintaining our discipline around our investing methodology – nothing too complicated.