Huawei and China/US Trade Tensions – Is it Getting Serious Now?
Market and Economic Update –  Fortnight Ended 31st May 2019
"If you have one economist on your team,
it's likely that you have one more than you'll need." 
Warren Buffett
The above chart shows long term interest rates dropping below short term interest rates.
An inverted yield curve means long term interest rates are lower than short term interest rates – often a signal for recession.  This chart and variations of it is one of the most widely used charts across the internet over the last couple of years or so.  Clever analysts around the world use it to predict upcoming recessions and declining share markets.  Whilst it has been a reliable chart for many years, the reality in my view is that, when we have strong central bank intervention around the world, some of those 'old world models' may not be as reliable in the future. 
We may indeed yet get that recession, however, as the chart above shows, long term interest rates crashing through short term interest rates has not been the trigger so far.  Although a bit simplistic and general, the global economy is mostly stable, although tensions between China and the US are actually starting to seriously ramp up.  Until now, most of it has been "sabre rattling", as it were, whereas now, we have the US making it difficult for Huawei to operate profitably, let alone expand globally.  China will respond.
The above chart is now red once again, denoting a trading loss over the last six months.
The markets remain soft but surprisingly resilient.  American companies now need to take out a licence to be able to supply technology and materials to Huawei, making things very difficult for Huawei in the immediate future.  China recently responded with a veiled threat to slow down or cut off exports of China's rare earth materials to the US.  This is important to the United States because they need rare earth material for manufacturing and importantly, for their significant military machine.  To be clear, this was not a direct threat to Donald Trump or America but a veiled threat, where President Xi Jinping mentioned over state run news media this week, the importance of rare earth materials. 
The challenge here is that the global supply chain for rare earths and other mined resources means there would be collateral damage to countries other than the US (eg Japan and South Korea).  I suspect also that China relies on importing some minerals from the United States, which if true, makes the rare earth weapon an awkward one for China.  Australia could perhaps fill the gap for America, although it is difficult to know to what extent.  The message from China appears to be that China is an important supply for rare earths and they control America's supply chain.  Anyway, the markets are mildly cautious but so far resilient regarding the ramping up of tensions between China and America.  Of course, this can change in the blink of an eye – hopefully!
The above chart shows the divergence between declining share market prices in the US and rising bond coupon (interest) rates.
Donald Trump, since his 5 May 2019 trade tweet, has made the markets stop and think.  As the chart above shows, interest rates over that time have increased and the share market has eased back.  Investors in the share market have mostly looked through the past fears of a trade related economic slowdown whilst bond market investors are more concerned.  This has meant that bond prices have increased, meaning that yields have declined somewhat and are as low as they have been now for several years. 
Basically, whilst the US Fed has been cutting interest rates over the last couple of years, there is now rising sentiment across the markets that the Fed and the US will be faced with an interest rate cut in due course, based on those geopolitical jitters and resulting recessionary concerns.  In the past, share market and bond yields have tended to move in the same direction as expectations for higher growth and inflation increased the appetite for shares and weighed on bonds, pushing their yield higher.  However, the recent divergence between stocks and bonds in the US has been interesting, as each paints a very different picture of the economic outlook.  Watch this space.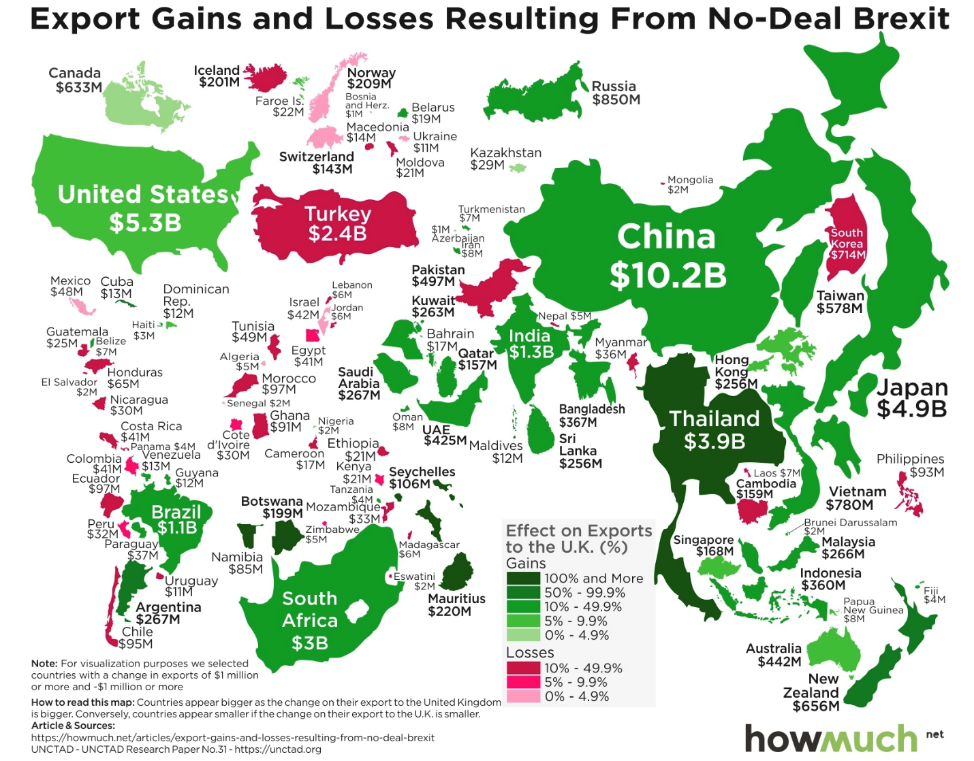 The above chart shows the biggest Brexit winners and losers.
Theresa May, the Prime Minister of Britain has resigned.  This is seen as an opportunity to renegotiate Brexit terms and conditions, although the Europeans are wondering why the Brits think anything will be any different.  Time will tell. 
The top five countries that stand to gain the most from a no-deal Brexit are China, the United States, Japan, Thailand and South Africa.  The top five countries that stand to lose the most from a no-Brexit deal are the European Union, Turkey, South Korea, Pakistan and Norway. 
Australia
The above chart shows Australia's declining economic growth trend since 2012.
The Australian economy has enjoyed 27 years of uninterrupted growth.  That is almost unheard of over the last 27 years; however, as the chart above shows, the trend line for economic growth is down.  The ongoing decline in housing prices will also be continuing to hurt market sentiment and not help economic activity in the short to medium term.  That said, the recent elections in Australia could be considered a mild positive for housing, potentially. 
The above chart shows the number of seats for each of the main competing parties in the Australian election held recently.
The Scott Morrison coalition wins.  In short, this is arguably a positive for the Australian economy, with many right-wing voters breathing a sigh of relief.  It was a close run election, with Scott Morrison beating out the Labour candidate right at the end by a slim margin. 
This also has a minor positive spin-off for New Zealand as well.  For example, the Labour Party were pursuing strong regulatory action against all of the major banks in Australia, which would have undoubtedly flowed on across to the New Zealand owned counterparts, making money yet more difficult for everyday Kiwis to borrow.  As it is, Kiwi borrowers may be facing up against the increased capital requirements for banks, which will, if pursued by Adrian Orr, make borrowing more difficult yet for some Kiwis.  It is also interesting to note that some commentators are suggesting four rate cuts are now forecast for the Australian economy.  That is significant and suggests that Australia too is succumbing to the ever tightening grip of global deflation. 
New Zealand
The above chart shows net immigration into New Zealand from 2017 to date.
Immigration to New Zealand slows and then recovers.  Currently, as the chart shows, we have around 56,000 people migrating to New Zealand.  On the one hand, this does stretch resources, requiring local councils and also central government in New Zealand to rethink the country's infrastructure.  On the other hand, this does help to also drive economic activity and growth and helps pay for the much needed infrastructure.
The above chart shows the number of visitors to NZ by country.
Australia unsurprisingly provides the largest number of visitors.  Australia provided 1.5mln visitors over 2018.  The expectation is that we will see an average growth of 2.5% per annum in the future.  It appears that (according to MBIE data) the Christchurch mosque shootings have not had a long term impact on New Zealand as a tourist destination.  Australia is expected to remain the biggest source of visitors and of spending, although Chinese visitors are forecast to close the gap in terms of amount spent. 

The above chart shows the projected number of visitors to 2025, along with daily spend and average length of stay.
New Zealand remains an attractive tourist destination.  The bottom line is that this bodes well for the New Zealand economy, as the number of visitors continues to increase, along with the average daily spend.  Of course, New Zealand will need to invest in its infrastructure and to tolerate some growing pains along the way. 
On a totally different note, interest rates in New Zealand remain on hold and look likely to be so for the foreseeable future.  Whilst this sounds positive for borrowers, it is likely that for those borrowers at the margins, that it may be increasingly difficult for them to borrow money.  We are already seeing anecdotal evidence of this now, with banks making some borrowers jump through an ever increasing number of 'hoops' in order to secure their funding (or to be, in the end, declined).  Also, some banks, such as TBS, are already increasing the amount of capital they hold and appear to be looking to pre-empt the New Zealand Reserve Bank's upcoming tighter capital requirements. 
The net result of those capital requirements will likely mean it is more difficult for some to borrow money and for those who are retired, living off the interest from their term deposits, they will unfortunately see their income drop once again. 
If they thought 3.2% interest on their term deposits was no good, wait until they get down to 2.9%!  I do not know for sure that is how low they will go.  Indeed, they could drop lower!  We do know that those increased capital requirements can mean a lower interest rate for those investing in term deposits.  Of course, that is less of a concern for you, with your investment portfolio.  Indeed, lower interest rates can have the effect of pushing trading prices up, so that investors who prefer long term growth over time, win again.  Investors in term deposits …
If you would like a copy of our disclosure statements please email admin@wiseplanning.co.nz or click here
©1987 – present WISEplanning. All Rights Reserved. The integral concepts are part of The Money M – A – T – R – I -X and Wise Asset Management and cannot be used without the written permission of WISEPlanning. If you would like further information about The Money M – A – T – R – I -X programme other services and products, please telephone 03 375 7001, fax 03 386 0686 or email admin@wiseplanning.co.nz Attention: Any form of reproduction, or further dissemination of this website is strictly prohibited. Also, please note that opinions expressed in this email are those of the author, and are not necessarily those of WISEplanning. Any mention of Warren Buffett or other successful investors is not intended to mislead anyone to think that WISEplanning or clients of WISEplanning will be as successful as Warren Buffett and other successful investors.