Does Lower Interest Rates Mean Recession!?
Monthly Market and Economic Update –  Week Ending 27th September 2019
"If you have one economist on your team,
it's likely that you have one more than you'll need." 
Warren Buffett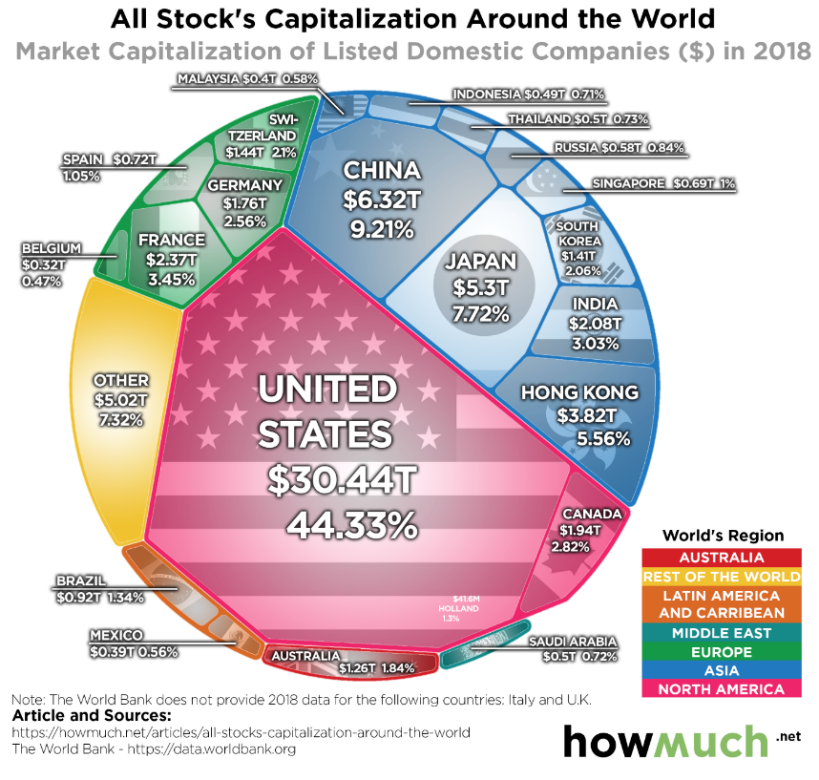 The US share market is five times the size of the closest competitor.  The US share market, in fact, is so large that it accounts for just under half of all global equity value.  Still, established markets such as Switzerland, for example, have significant sized markets compared to their population.  It is easy to see why the so called weight of money is a factor across markets when uncertainty erupts and fear prevails. 
The above charts show the increase in the Dow Jones over the last six months and the last 12 months.
Markets have moved on from the nervousness of this time last year.  You may recall that this time last year, in September 2018, the markets got caught up in a minor negative spiral, worrying about trade tariffs, Donald Trump and nervousness around economic growth.  It highlights how the market can take trading prices in a direction that has little to do with what is actually going on below the surface. 
Still, most people follow the markets and trading prices as though they hold some secret to what is coming up in the future.  Momentum investing, practised by share brokers, would be a good example of price movement or the momentum of price movement being central to the investing methodology.  As prices move up, they tend to recommend buying.  As prices decline, they generally recommend selling.  Whilst this is not always the case, nonetheless, when a strong bout of volatility on the downside erupts, it seems as though any positive data about the business is discounted as unworthy. 
Over the last nine months or so, markets have continued to closely watch Donald Trump, China, the US trade tariff disagreement, oh …and Brexit.  There is more going on though than just tariffs.  Cyber and currency disputes have emerged and are now part of the landscape too.  Anyway, getting back to market volatility, you may have noticed at one point when Donald Trump suggested that the Chinese were coming to the table to recommence negotiations.  Markets became happy and trading prices rose.  Not long after, when the Chinese stated that they knew nothing of such a meeting, the markets became unhappy and trading prices dropped.  Then, when Donald Trump suggested that the meeting was, indeed, back on again, the markets became happy and trading prices rose.  The point here is that tracking prices up and down is largely futile, particularly in the short run. 
The reality is that trading prices tell us nothing about the underlying business in which we invest.  Of course, it is okay to keep one eye on the markets, so that we stay in tune with what is going on around us. Notice though how all the drama around Brexit and even trade tariffs, as well as those potentially nasty trade wars, so far have not come to much?  Of course, things can always change.  Does that mean though that because the market becomes very unhappy, that the economics of any particular business is suddenly of no consequence or use to us? 
Price (the market and the voting machine) is what you pay.  Value (the economics of the business, along with the financials) is what you get.  Some things … just do not change. 
ECONOMIC UPDATE
The Fed Funds Rate – USA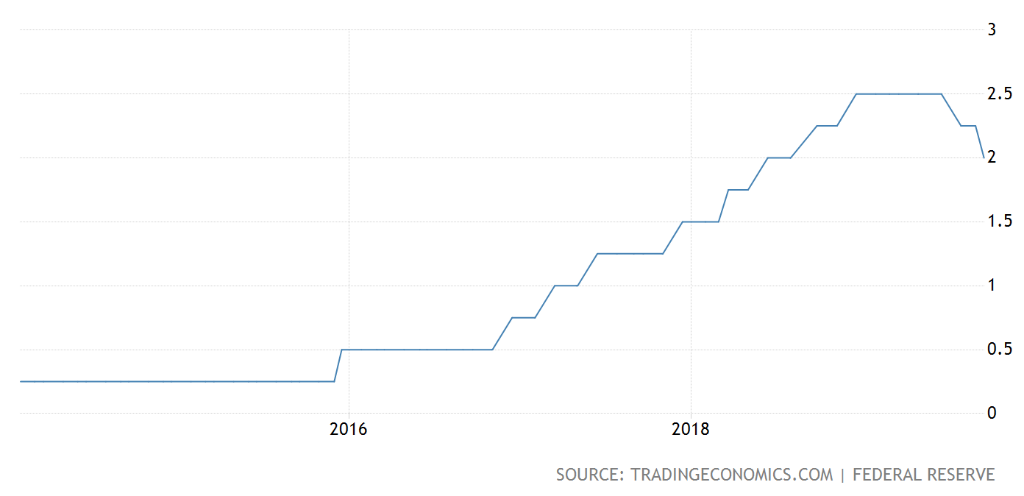 The above chart shows the Fed Funds Rate movement over the last five years. EXHIBIT 1.
The global economy remains in the firm grip of deflationary funk.  What this means is that economic growth is slowing.  This is evidenced by interest rate cuts in a number of large economies around the world and slowing global economic growth.  The US Federal Reserve has cut interest rates twice over the last couple of months or so.  Jerome Powell points to sluggish inflation along with heightened concerns about the global economic outlook, including ongoing trade tensions with China.  Interestingly, there appears to be some disagreement among Fed policy makers.  The majority are projecting no further rate cuts for the US in 2019 but seven of 17 policy makers at the Fed saw one more rate cut this year as appropriate. 
Declining Global Economic Growth
The above chart shows global economic growth dating back to 1961 up to the end of 2018.
Exhibit Two: Declining global economic growth.  You may have heard me mention in the past an economic phenomenon, sometimes referred to as "the global liquidity bubble".  This refers generally to increasing levels of debt, ever reducing interest rates and slowing global economic growth.  In short, the level of economic growth, as measured by gross domestic product (GDP) has been in decline for several decades (see the chart above).  That said, the global economy continues to grow and expand.  Slowing global economic growth is not the same thing as a shrinking global economy.  Indeed, global growth at around 3% is not all bad. 
Interest Rates Euro Area
The above chart tracks European interest rates over the last five years.
Exhibit Three: Interest rates remain at around zero in the Euro area.  Not only that, policy makers in Europe also approved a new round of bond purchases at a rate of €20 billion as from 1 November 2019.  This is an attempt to boost growth and lift inflation in the midst of global trade disputes and ongoing Brexit uncertainty.  Interestingly too, the European Central Bank (ECB) reduced its GDP forecast down from 1.2% to 1.1% for 2019 and down to 1.2% for 2020 versus 1.4% previously projected.  Inflation expectations were also lowered to 1.2% in 2019 versus a previously anticipated 1.3%.  Further, the outlook for 2020 is a reduced 1% inflation compared to a previously anticipated 1.4% over 2020. 
Economic Growth China (GDP)
The above chart tracks economic expansion in China since 2016.
China's economy continues to slow but is still growing at a fast pace.  The popular media love to point out that the second quarter of economic growth in China was the weakest in 27 years.  It overlooks the fact that economic growth continues at a pace of 6.2% year on year.  That is a fast pace of growth when you look around the world.  Also overlooked in that headline is the fact that China is one of the largest economies on the planet. 
If China is expanding, then this expansion flows off around the world to other economies.  For example, the significant growing middle class in China controls a massive amount of wealth.  Think for a moment about the tourists from China flying over to New Zealand to spend money here in New Zealand.  There will always be questions around how self-serving China's intentions are with regards to global growth and expansion.  Still, like the United States of America, China is contributing to global stability and economic growth. 
Snapshot Australia
The above chart shows some key indicators for the Australian economy.
The Australian economy remains stable but growing slowly.  Like New Zealand and other countries around the world, Australia is part of a global economy that is seeing economic growth and expansion slow.  Economic growth in Australia over the first six months of 2019 was slower than expected, with household consumption facing the headwinds of a lengthy period of low income growth and declining housing prices.  The outlook over the next couple of years is for stable economic growth, which may gradually improve. This will require ongoing low interest rates and the support of the recent tax cuts in Australia, along with ongoing infrastructure expenditure. 
Economic Growth in Australia (GDP)
The above chart tracks economic expansion in the Australian economy over the last five years.
Economic growth in Australia has declined, although the economy remains reasonably stable.  The Australian economy expanded 1.4% year on year in the second quarter of 2019.  This is lower than the previously projected 1.7% in the previous period and was close to market expectations.  This was also the weakest growth rate since the global financial crisis in 2009.
Cash Rate Australia
The above chart tracks the cash rate in Australia over the last five years.
The Reserve Bank of Australia left the cash rate unchanged at a record low of 1% during its September meeting, which was widely expected.  Like many other central bankers around the world, policy makers in Australia say that it is reasonable to expect that an extended period of low interest rates might be required in order to reduce unemployment and achieve their inflation target.  Like a number of other countries, inflation in Australia remains subdued. 
New Zealand
The above chart tracks New Zealand economic expansion from June 2013 to June 2019.
The New Zealand economy grew by 2.1% year on year in the second quarter of 2019.  This is a bit slower than the 2.5% expansion in the previous period but just ahead of general market consensus of around 2%.  It was the weakest growth rate since the last quarter of 2013.  Still, the New Zealand economy, whilst growing slightly slower than previously, continues to grow and expand at a rate that compares favourably to a number of developed economies. 
Residential Property Price Changes Across New Zealand
The above chart shows property price movement across New Zealand over the last five years.
Residential property price rises across New Zealand remain mixed.  The short-term variations do not really tell us much; however, when we look across to the right hand column, the five year "batting average" starts to tell the real story.  A quick glance shows the Rotorua district has offered the most growth and I remember only a few years ago, when property prices in Rotorua were stagnant to say the least. 
Christchurch City, on the other hand, is a notable laggard, with the prices of property around Christchurch City growing by a meagre 1.4% over the last five years.  Even Invercargill grew on average, 10.9% over that same period. 
The outlook for residential property would appear to be a mixed bag, with supply and demand pressures having differing impacts in different areas.  The Queenstown Lakes district, for example, has shown strong growth and may continue if population trends remain the same. 
Generally though, with the global economy slowing, inflation subdued and wages growth flat, inevitably this will flow through into property price growth across New Zealand, impacting on price growth longer term. 
Slower growth generally for property prices would appear to be on the menu long term.  This is important for investors because if growth is too low, then the cost of rates, insurance and maintenance gobble up a significant proportion of profit, rendering residential property as an investment not much better than a term deposit at the local bank. 
This does not mean that residential property is no longer a good investment.  It does probably mean though that the way property investors go about selecting and buying their properties might need to be different in a less forgiving environment in the future …
If you would like a copy of our disclosure statements please email admin@wiseplanning.co.nz or click here
©1987 – present WISEplanning. All Rights Reserved. The integral concepts are part of The Money M – A – T – R – I -X and Wise Asset Management and cannot be used without the written permission of WISEPlanning. If you would like further information about The Money M – A – T – R – I -X programme other services and products, please telephone 03 375 7001, fax 03 386 0686 or email admin@wiseplanning.co.nz Attention: Any form of reproduction, or further dissemination of this website is strictly prohibited. Also, please note that opinions expressed in this email are those of the author, and are not necessarily those of WISEplanning. Any mention of Warren Buffett or other successful investors is not intended to mislead anyone to think that WISEplanning or clients of WISEplanning will be as successful as Warren Buffett and other successful investors.