Is COVID-19 Going To Damage Your Investments?
Investment Perspective – May 2020
"Neither the investing method nor the fundamentals of the business are right or wrong because the mood of the market is favourable or unfavourable toward the "stock". That is because when you really think about it, "stocks" (shares) are all about the financials and the trading price, the share price… the cash up value. What matters more is the economics of the business" 
Peter Flannery
Successful Investing with COVID-19
COVID-19 means uncertainty and some potential game changers in terms of how we live and do business – just ask anyone!
As cash up values of investment portfolios declined in a meaningful way for a first time in around 10 years, some investors were struck with the reality of how markets actually operate from time to time. 
Indeed, the markets functioned well and the way they are supposed to.  The markets offer us a secure way to transact and to obtain exposure to business growth, not only in New Zealand but in other countries around the world.
After all, investing is not about making money every waking moment at any cost.  It is about protecting our capital first and foremost and growing it in a way that is uncomplicating and dependable.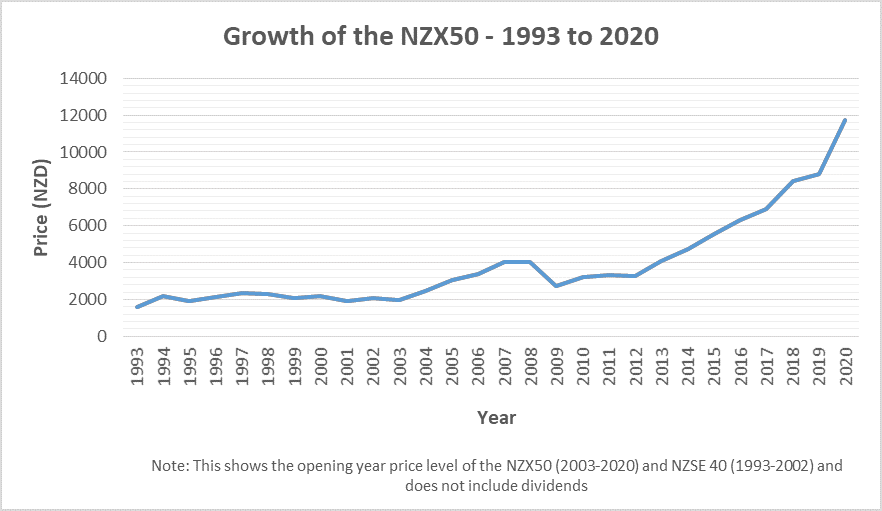 The chart on the left shows the growth in the American market and the chart on the right shows the growth in the New Zealand market. 
As you can see from both graphs above, the American and New Zealand markets have grown strongly over the last 27 years.
The S&P500 was priced around 435.71 on 1st of January 1993 and as at 12th of May 2020 was priced at 2930.32 – that is to say, if you were to have invested in 1993 in the S&P500, your money would have roughly increased by about 6.73 times over.
Similarly, the NZSE40 in 1993 opened around the price of 1565.20 and as at the start of 12th of May 2020 the NZX50 (which replaced the NZSE40) was priced at 10760.29 – that is to say if you were to have invested in 1993 in the NZSE40 (now NZX50), your money would have increased by about 6.87 times over.
This is impressive when we consider that in both scenarios, this is also without taking into account any dividends received over this time.
You invest because …
You and I invest because we like to protect our capital and we like to see it grow.  That way, we can use it later, whether it be to drawdown lump sums or indeed, to make that lump of capital generate passive, ongoing income every month. 
Of course, we want it to grow as fast as possible but we do not want to lose it. 
When we encounter events like the Global Financial Crisis (10 years ago now) and COVID-19 right here right now, we soon discover whether or not we are protecting our capital. 
As you know, I am not thinking about protecting our portfolio from pricing volatility.  After all, the trading price of any asset is determined by the market and the market mood. 
If you and I are investing on the basis of hoping the trading price goes up all the time, not only is that rather pointless, it is likely also to be frustrating, stressful and in my view, no way to live.  It is certainly no way to invest. 
Once we understand that the trading price is simply an entry or an exit point, and we realise that the underlying fundamentals of the asset are key to success, investing and life becomes a whole lot simpler.
What Warren Buffett and Charlie Munger knew …
For decades, Warren Buffett and Charlie Munger invested successfully.  Back then and even today, most do not understand how.  What did they know? 
More recently though, questions have been raised about Warren Buffett and Charlie Munger, given their ages, and also the fact that the trading price of Berkshire Hathaway has not beaten the broader market index for many years. 
What is going on with Warren Buffett and Berkshire Hathaway?
You should be aware that the modus operandi of Berkshire Hathaway has shifted in more recent times. 
The amount of money they are dealing with is significant and when they invest, it needs to be in large amounts to, as Warren Buffett puts it, "Move the needle." 
It appears that they can only invest in approximately 100 companies in the US because when they invest outside of this group, they invest in smaller businesses and have to invest in smaller amounts, which because of their size unfortunately just does not work in terms of generating meaningful gains. 
For example, if you need to invest $20 billion to make a meaningful difference to your investment portfolio but the business you are looking to buy is only worth $10 billion … do you see what I mean?  This is a problem for Berkshire Hathaway. 
The other aspect of their modus operandi is the fact that they now appear to have shifted towards protecting capital long term, beyond the lives of Warren Buffett and Charlie Munger, in my opinion. 
Whilst maintaining a growth mandate, which will serve investors well for many years into the future, even after they are both gone, they appear to be focused on stability and capital protection. 
Therefore, Berkshire Hathaway as an investment may not outperform the broader index for the foreseeable future (ironically because they have been so successful!) but remains a worthy component of most investment portfolios.  
A more solid investment than Berkshire Hathaway is difficult to find. 
Further, at the moment, with the trading price lagging the broader index, mainly because tech stocks remain favoured by the market in the short term, the underlying businesses within Berkshire Hathaway continue to grow.  Therefore, the gap between the trading price and the intrinsic value, appears to be increasing, meaning that Berkshire Hathaway is becoming cheap. 
Getting back to what Warren Buffett and Charlie Munger knew, they worked out over 50 years ago that when investing in stocks, to be successful and achieve maximum returns, they realised that looking beyond the financials and the typical analysis that every other investment analyst was undertaking towards the economics of the business became key … the business, not the stock
The above chart outlines the eBiz investing methodology developed at WISEplanning.
There is an old saying that goes something like, "… we are all, at some point, trapped by our strengths." 
For Berkshire Hathaway, their unusual success has meant their significant scale now, has limited their opportunity to grow their investment portfolio at the same pace as they have for over half a century.
Sure, they could always look elsewhere outside the US, however, if you think about, would you and I be keen to do that at aged 89 or age 96? 
Even though it may not generate stellar market beating returns as it has done in the past, to be clear, Berkshire Hathaway remains a worthy, high quality investment. 
Fortunately, you and I are not constrained by the limitations of Berkshire Hathaway's scale. 
Your investment portfolio and my investment portfolio is still small enough that we can invest with the agility of the much younger Warren Buffett and Charlie Munger back in the day. 
The game is not over for Warren Buffett or Charlie Munger and far from over for Berkshire Hathaway. e-Biz Investing at WISEplanning continues to evolve and develop. 
Thanks to COVID-19, we now have economic drama and uncertainty.  We also have improved (lower) trading prices to help build in more growth in the future.
"The business schools reward difficult complex behaviour more than simple behaviour, but simple behaviour is more effective."
            Warren Buffett.