Avoid This Investing Mistake…
Investment Perspective – June 2020
"Neither the investing method nor the fundamentals of the business are right or wrong because the mood of the market is favourable or unfavourable toward the "stock". That is because when you really think about it, "stocks" (shares) are all about the financials and the trading price, the share price… the cash up value. What matters more is the economics of the business" 
Peter Flannery
What do you see as an investor?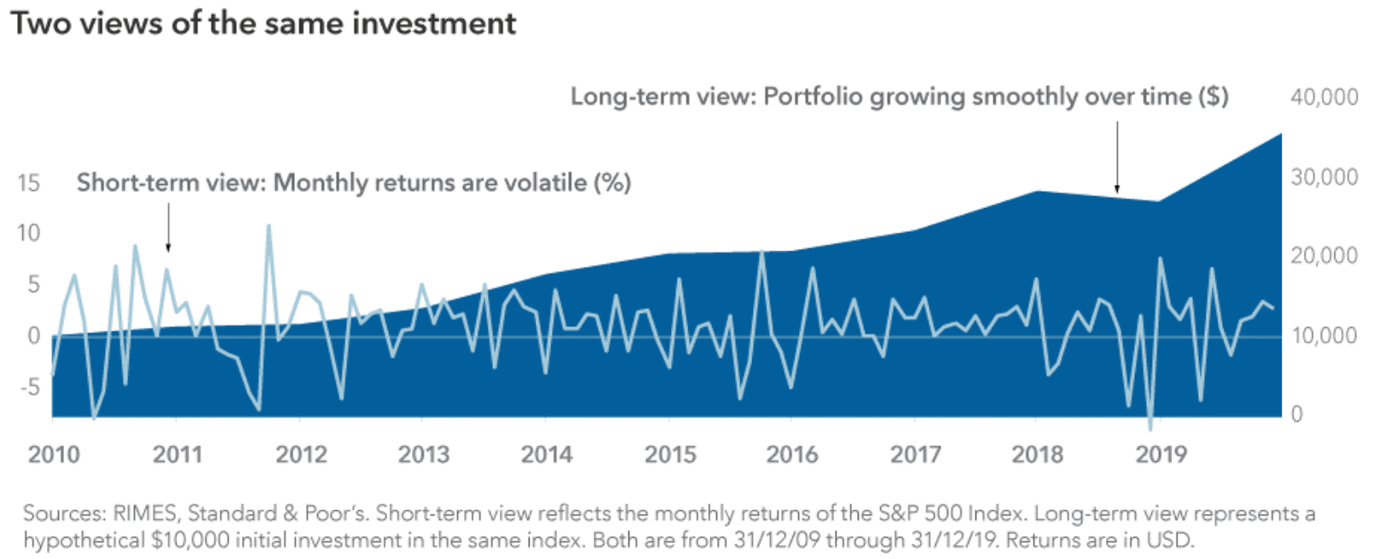 The above chart highlights the difference in approach between those who invest in the business long term and others (most people) who watch the random movement of trading prices on a weekly and monthly basis.
The chart above does a good job of reinforcing the importance of investing in the business rather than the stock.  The light blue jagged line denotes monthly movements, whereas the solid blue background shows what really matters – what do you think?
If you have been going about your life, confident in either the advice you have been receiving or that the economics of the businesses in which we invest are mainly sound, then you are more in line with the dark blue background way of investing.
If you have been unsettled by market volatility, the plethora of "news" blasting at you day in, month out and feeling a degree of anxiety about your investments, then you are more aligned with that light blue jagged line, which effectively says that you believe markets move up and down, are risky and that you may or may not make money in long run. 
Indeed you do not always believe that you will make gains and if you do it is by chance.
If you are more aligned with the dark blue background, then you believe that markets ultimately grow in an uneven and unpredictable way, but regardless, quality investments usually grow too.  You believe this means that ultimately your investments grow long term and that the short term fluctuations serve the purpose offering better buy prices, or send you the signal to step back when prices are high and to be patient. 
The Trading Price and the Intrinsic Value
Long term, the underlying intrinsic value of each business in which you invest and its trading price tend to line up together.  In the short term though, they can be quite far apart at times. 
The market does not follow our methodology (value / eco-Investing) and when attempting to place a value on a business, they use share market analyses to arrive at a conclusion.  Those conclusions can be quite valid but are not always accurate and tend to over-estimate or totally overlook the ability of the underlying business to perform in the future.
The Markets and the Economy
Also, markets and the economy in which they operate, tend to line up together in the long run.  In the short term though, they can be a long way apart.  This is what we are seeing right now. 
In the US in particular, markets appear to be looking through the upcoming slew of negative economic data, past 2020 and into 2021, when conditions (they hope) have stabilised and may hopefully be some way toward getting back on track to the new 'normal'.
It looks as though the Coronavirus will be with us for some time to come.  That said, the progress on medications to manage the symptoms of the virus and a vaccine to cure the virus have progressed strongly but we are not there yet.
It would appear that it will be 2021 before we see a serious roll out of a vaccine, providing one can be developed. 
In the meantime, you and I are best to focus on the ability of each business in which we invest to use capital, so that we know, in the worst case scenario, that our capital is secure, even though the trading price will bounce up and down.
"Avoid becoming obsessed …"
Warren Buffett made this comment about investors and analysts (who should know better) who can at times become obsessed with the trading price of a stock. 
I would add to that (avoid becoming obsessed with):
The economy
Market conditions
Price and value are not the same thing.
There is only one thing worse than becoming obsessed with the trading price, the economy or markets. 
That one thing is becoming obsessed with the trading price, the economy or markets and being in denial ….
There seems to be some perverse human characteristic that likes to make easy things difficult.
                                                                                                                           Warren Buffett