Investment Perspective – April 2020
"Neither the investing method nor the fundamentals of the business are right or wrong because the mood of the market is favourable or unfavourable toward the "stock". That is because when you really think about it, "stocks" (shares) are all about the financials and the trading price, the share price… the cash up value. What matters more is the economics of the business" 
Peter Flannery
The left hand side graph is the one showing the last five days of trading on the Dow Jones (US share market).  The right hand side graph shows the last 12 months of trading on the Dow Jones. 
The workload at WISEplanning on the investment desk, due to buying activity, has been virtually frantic – the opposite of what has been going on across the markets. 
As the data flowing out of the last month crystallises into the usual economic reporting, the sharp decline in economic growth and rise in unemployment will be as significant as the speed of events over the last few weeks.  The data will become progressively ugly. 
That may cause those with a measured approach to investing to become anxious if they have already taken action or to feel vindicated if they have held off. 
Those more defensive will not have taken action as yet, to take advantage of lower prices and likely will not do so until trading prices stabilise, the uncertainty dissipates and prices have gone up already in what looks like a stable manner. 
For those who are more advanced and have taken action already, their only regret will be that they did not have more cash available to take advantage of those lower prices. 
Investing now in the market means different things to different people. 
Timing the Market!
I was at a board meeting recently. One of the board members mentioned how, at the end of last year, there was a discussion around Donald Trump.  They concluded it might be an idea to remove the capital out of a balanced managed fund that they might need to access soon anyway because Donald Trump did not appear to be listening to his advisers. 
At the meeting the other day, this board member quipped what gurus they were because they made that adjustment, tongue in cheek though, because he knew that the Coronavirus, when they initially discussed Donald Trump had not emerged but was the real reason for the market decline (not because Donald Trump was not listening to his advisers, although that fact happens to be true too). 
The fact is that timing the markets sometimes works.  The challenge, is that it is a combination of well thought through academic reasoning and a fluke.  It is not a reliable way to invest long term.  There is a significant amount of evidence to prove it.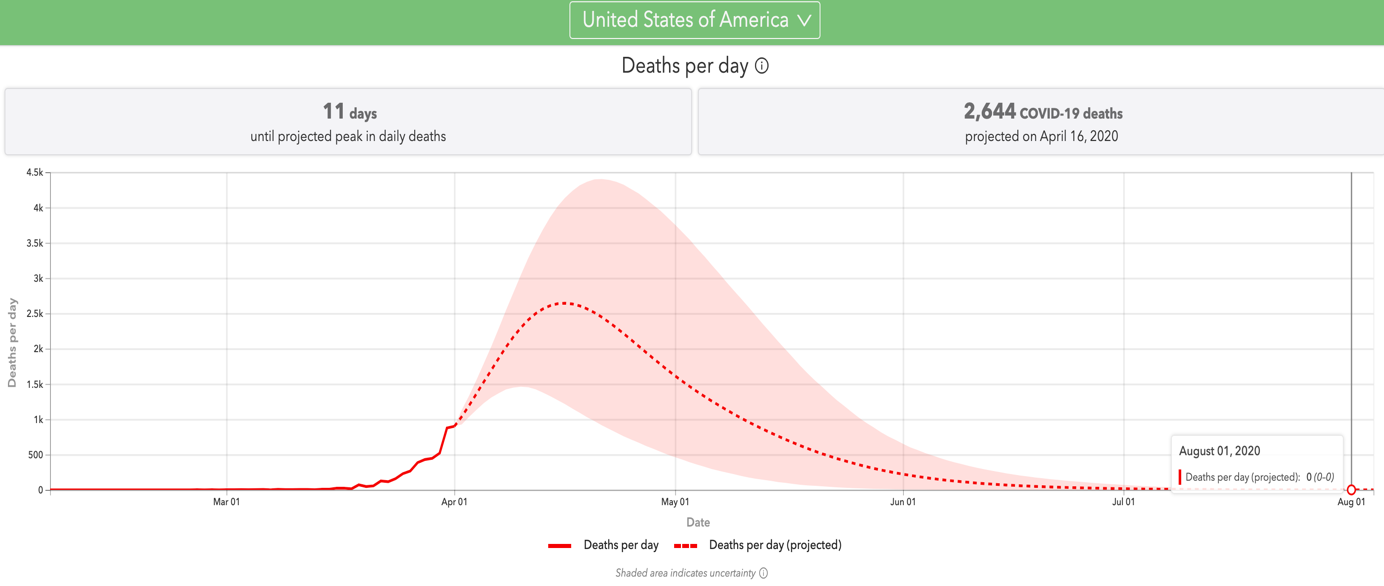 The top chart is a predictive model, showing the projected requirement for all beds needed, intensive care unit (ICU) beds and invasive ventilators needed between now and 1 August 2020.  The lower chart shows the predictive number of deaths per day up to 1 August 2020.
So, we have some modelling that gives us some projections at least around how things may look over the next couple of months. 
We can see that if these projections are somewhere near correct that the infection rate in the United States of America looks as though it could peak toward the latter part of April this year, with the rate of infection having seriously declined by the beginning of June this year and only a minimal issue by 1 July this year.
By the way, I refer to the United States of America, because their economy is significant and impacts on most other economies around the world just because of the size of the US economy.  The world still trades a lot with the United States of America and therefore the US economy matters to us all.
I imagine you have kept up with the strong increase in the infection rate of COVID-19, in which case you will be well aware that Europe and in particular Spain and Italy have seen their infection rate rise strongly. 
Although there is always questions over whether the data that comes out of China is accurate, it does appear that there are some signals showing that economic activity in China is now on the path back to 'normal.' 
There has been some casualties though, particularly amongst small to medium enterprises, some of which have simply fallen by the wayside, never to recover.  Regardless, the majority of the population is now moving freely and although it is not business as usual yet in China, they are on that path.
When we have the United States of America and China through the worst of it, one imagines that Europe will follow at some point and that inevitably the damage being inflicted on the global economy by COVID-19 also will peak and start to dissipate. 
I know what you are thinking though, that does not mean that we all get back to normal just like that!  I agree with you. 
I have noticed there are one or two theories popping up that suggest the economic landscape might not be the same again – ever.  Maybe. 
For example, some say that working from home might become the new normal because the use of technology, much of which did not exist 10 years ago, now allows that to take place.  To some extent, that is true and in my own case, I have seen limited disruption; however, that is not the case if you live in a small house where Mum and Dad both need an office and children are under 10 years old, requiring attention from Mum, Dad every other minute. 
In my opinion, it is a bit early to lock in those theories just yet. 
Here at home in NZ …
It is also too early to know; however, unfortunately, it looks as though there will be some small business casualties and even larger businesses are scrambling to stay solvent.  Air New Zealand is a good example that comes to mind. 
Indeed, it is unlikely that they will be able to suddenly spring back to Air New Zealand (AIZ) life the way it was prior to COVID-19.  Many international routes have been dis-established but importantly, the infrastructure that allowed them to operate profitably is being dismantled.  At best, it may be a process of rebuilding over a period of months and years rather than days and weeks.  Still, providing capital is freely available to AIZ and other businesses, innovative businesses may surprise us all with how quickly they get back on track as they pursue growth and profits for their shareholders.
I have had a few queries from clients and others, wondering if AIZ might be worth investing in, the idea being that the share price is under pressure and the government is the majority shareholder. 
This is a good example of speculation rather than investing.  It is entirely possible that the share price recovers in the future; however, the basis of investing is purely on price recovery as distinct from a reliable business that consistently uses capital well.  To be clear, the economics of Air New Zealand are not ideal when compared to other options. 
While we are on the subject, Auckland Airport (AIA) is another business model that I am cautious about.
I know that some investors favour Auckland Airport because it is a monopoly and of course, the gateway to the rest of New Zealand from offshore.  Others like it because Auckland Airport owns a substantial amount of property. 
Believe it or not, the ownership of property is an achilles heel because the property offers security but can actually hamper business growth.  That is because capital is tied up in an asset (property) that in the end reflects economic conditions rather than the economics of the business and the innovation around those economics.  Do you see what I mean?  This does not mean that Auckland Airport is an unsafe investment; however, we are looking to reduce risk and maximise our returns rather than increase risk and minimise our returns long run. 
Although slightly different, it is a bit like the use of modern portfolio theory, which suggests diversification is the way to manage risk.  Of course, it is valid. 
It is just that it is not right when it comes to maximising returns.  The more widely investors diversify, the more the return on the aggregate of their investments reverts to the mean of that investment mix.  Warren Buffett and Charlie Munger worked that out over 50 years ago. 
Price is what you pay, value is what you get
As investors, we are interested in the business and as Buffett would say, we are not interested in moving money about from place to place.  That is what speculators do. 
Investors, on the other hand, are much more selective about where they place their money and then once they find a suitable investment, there should be less need to move out of it to somewhere else. 
Sure, if you as an investor progress your investment portfolio to a more advanced Investment Strategy, then we will be removing some investments in favour of others.  Of course, this is because some of those investments in the portfolio, whilst suitable for a less advanced Investment Strategy will become unsuitable for a more advanced Investment Strategy. 
For example, investments in a diverse mix of large caps are appropriate for someone with a Growth Strategy; however, investors with a more advanced Investment Strategy will adjust the mix so that their money is invested in fewer large caps as well as newly introduced small caps.   
For example, Diageo and Unilever are great businesses but may not necessarily compare as well as Adobe, Alibaba and Alphabet, for example.  Therefore, Diageo and Unilever could be removed and repositioned across other large caps as the investors investing strategy becomes more advanced.  This does not mean that Diageo and Unilever are not good or were never any good. It just means they are no longer suitable. 
To be clear, the Investment Strategy is the overarching framework for how your investment portfolio is managed.  This is important because it helps to determine the long term return on investment (ROI). 
Market Timing versus Pricing for Risk
Market timing works sometimes and does not work other times.  That is why it is considered unreliable. 
When it works, we can sometimes start believing that we might just have a special gift! 
Although possible, that is unlikely.  What is more likely is that the reasoning we used was valid and that other factors, some of which we may have known about and others which we may not have known about, have come together to line it up to make us right – this time. 
Timing the markets is one of those approaches that falls into the category of … "It works until it doesn't." 
Value/eBiz Investing, on the other hand, always works, providing we adhere to the methodology.  A bit like managing the spread of COVID-19; providing everybody stays home and stays connected only to their bubble, can we get ahead of this virus.  The reality is that this is easier said than done.  Unfortunately, some people think the rules exist only to be broken!  Anyway, do you see what I mean?
Pricing for risk means that we establish an intrinsic value or an intrinsic value range.  The intrinsic value is based on the ability of the business to use capital.  It is not based on things like the P/E ratio, the last quarter's profit, last year's profit, the price to earnings growth (PEG) ratio, the discounted cashflow and other financials.  As I have mentioned previously, it is based on the combination of some financials and the economics of the business. 
The challenge for some investors is that because business like Fletcher Building or Air New Zealand has been around a long time and have been popular among the media and many investors, the share price has been rising over many years.  They become, a favoured investment, popular.  Auckland Airport (AIA) also comes to mind. 
I may have mentioned elsewhere previously that currently, the intrinsic value range for AIA sits somewhere between $2 and $2.50 and the current trading price is around $5 or thereabouts.  This does not mean that Auckland Airport may not be a useful investment, it is just a matter of the price you pay for it (and the value that you get for your money). 
I think I may have mentioned already elsewhere another example, which is Credit Corp.  This business has a reasonably long history with WISEplanning and an interesting story, which we can explore some other time if you are interested. 
Right now, the trading price has declined from a recent high of a bit over $37 to a recent low of $6.25 on 23 March 2020.  The current trading price is a bit over $13.  I would place the intrinsic value range at somewhere between $15 and $18. 
This is not a recommendation for anyone but just an example of the difference between the likes of, for example Auckland Airport, Fletcher Building and a business like Credit Corp. 
My point, of course, is that pricing for risk is the safest way to determine when to buy into a business – not trying to time the market or second guess the trading price. 
After all, how we anyone reliably predict the future trading price of a stock when it is determined by market sentiment that can change in the blink of an eye from moment to moment?!
"The best thing that happens to us is when a great company gets into temporary trouble.  We want to buy them when they are on the operating table."
Warren Buffett