Progressing to Level 2… (Covid-19 Update #13)
Covid-19 Update #13 – 6th May 2020
"If you have one economist on your team,
it's likely that you have one more than you'll need." 
Warren Buffett
Both the infection rate and the markets are mixed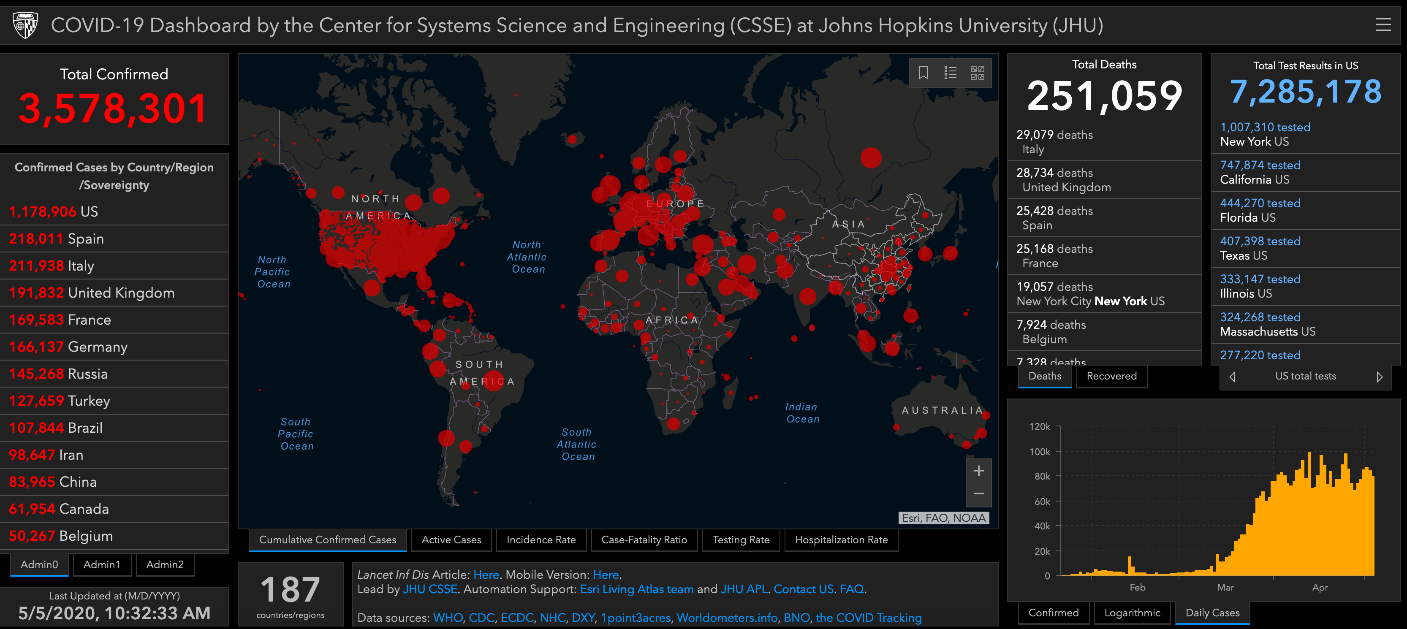 The above chart from the John Hopkins University of Medicine shows the current state of infections globally.
Key Points:
The rate of COVID-19 Spread
What is happening to the reinfection rate?
How serious is the economic damage
Although some countries appear to have contained the spread of the Coronavirus, at least for now, in many other countries, the spread continues.  Confirmed cases of the Coronavirus in America sit at around 1,178,906, the death rate currently 68,922, with 187,180 cases of recovery.  The next largest spread is Spain and then Italy, with 218,011 and 211,938 confirmed cases of infection respectively.  This brings us to the United Kingdom, with an infection rate at around 191,832, a death rate at 28,809 and a total recovery number currently at a strange looking 910 only. 
Whilst some countries are showing a low incidence of COVID-19, it is possible that their reporting systems may not be robust and therefore inaccurate. 
As for New Zealand, we have around 1,487 confirmed cases of COVID-19, 20 deaths and 1,276 people have recovered from the virus. 
The point here is that so far, it is a mixed bag of data, but with some improvement in some countries underway.  Thankfully, New Zealand and Australia appear to be on the right path.  That may mean a possible Trans-Tasman bubble.
The second wave, I think, is a potential threat, not just because more people can be infected but, economically because billions of dollars, indeed trillions of dollars around the world, have been borrowed (printed, etc) to navigate this far into the impact of the Coronavirus. 
The real danger is that some countries move into a second wave of infections (e.g. Singapore), with yet more funding required by central banks and governments around the world.  Not only that, in addition to the jobs that have been lost and the businesses that have closed down, those at the margins will also join the scrap heap, as the COVID-19 continues to move through the population under a second wave scenario. 
Although a different virus, it is interesting to note that the Spanish flu, approximately 100 years ago resurfaced twice after the initial round of infections, taking the total number of infection waves to three.  Although again, a different scenario, the third wave was 100% fatal for everyone who was unfortunate enough to be infected. 
What is 'R0 (R naught)?'
Simply, this is a mathematical term that indicates how contagious an infectious disease can be.  It is generally referred to as the reproduction number.  Basically, as an infection spreads to new people, the virus reproduces itself.  This simple formula tells us the average number of people that may catch a disease from one contagious person. 
What do 'R0' values mean?
Basically, there are three values worth considering:
R0, if less than 1 means each existing infection causes less than one new infection. In theory, this is the number we want, which we actually have in New Zealand, which sits at around 0.45. This number suggests that the infection should decline and eventually die out;
If the R0 number equals 1, this means each existing infection causes one new infection. At this stage, the infection continues but not necessarily at the rate of a significant outbreak or epidemic; and
If the R0 number is more than 1, then of course, each infection causes more than one new infection.  An R0 number above 1 can lead to the spread of the infection and an outbreak or epidemic
The graph on the left shows the movement in the Dow Jones (the American share market) over the last month, and the graph on the right shows the movement of the Dow Jones over the last 12 months. 
Where we are at now with regards to markets and pricing is what I would call generally 'fair value.'  In other words, generally not expensive and not cheap.  This is not ideal for us as value/eBiz Investors but certainly offers more opportunity than we have seen over most of the last 10 years – thank you COVID-19!
Some businesses have taken action already, with regards to rights issues and share purchase plans.  Expect more ahead in the future.  Not all of these, for everyone, will be worth taking up.  I will keep you posted. 
So, as you may have seen, we had a strong and sharp reaction to the spread of the corona virus initially and a less sharp and less strong recovery in trading prices.
As I have mentioned on numerous occasions, it is important to separate the markets from the economy.
Markets tend to be a leading indicator.  The short of it is, if you are interested in maximising returns, you need to invest early.  Otherwise, you run the risk of being late. 
Whilst being early can mean a bumpy ride in the face of uncertainty, being late to the markets is a locked door. 
Sure, if you have decided to wait and see how things work out, because the recovery may be slow and protracted, you may capture some volatility advantage in the future; however, what is the trigger for you to go into the markets and why is it different than previous?  Of course, I make that comment as an investor in business rather than someone who plays the share market. 
If trading prices are low and represent good buying, the timing of can be much less important than the relationship between the buy-in price and the underlying intrinsic value of that business.  This makes sense when you think about it because the intrinsic value reflects the ability of a business to use capital (the quality of the business if you like) and has little to do with market sentiment.  It also helps avoid a likely unfortunate reliance on market timing. 
Economic Growth (GDP) – China
The above chart shows how economic growth, as measured by GDP, has been tracking since around mid-2017.
The chart above shows in spectacular fashion, the impact of COVID-19 on the Chinese economy – massive.  Indeed, I do not believe we have ever seen that type of number before. 
They are not alone.  Expect a slew of ugly looking economic data to roll out over the next few months, as the lagging effect on the economy is reported. 
The good news is that, whilst there is plenty of that sort of data to work through in the future, we are already underway.  We are in the midst of the virus pandemic and steps are being taken. 
Governments and central banks around the world have responded and whilst it is early days yet, there is evidence that some countries (e.g. New Zealand and Australia) have made solid progress against COVID-19.
Unfortunately, there are winners and losers in these types of situations, a true test for governments, businesses and individuals. 
From a boring economic standpoint, I suggest we look beyond the upcoming tidal wave of ugly data and into the recovery, which is inevitable. 
Yes, it will be slower than how it all got started.  Things may be different.  Indeed, it may well be that people travel less or that they modify the way they do business.  Still, one thing that will never change is that humans are generally progressive, are herd animals and we like to congregate, to be together (the experience beyond the logic). 
I don't know about you, but I am looking forward to level two, then level one and beyond.  Those details will be with us soon – patience 🙂
In the meantime, as Jacinda Ardern and Ashley Bloomfield have said repeatedly, let's stay the course.  Let's win.
"The hardest arithmetic to master is that which enables us to count our blessings."
              Eric Hoffer